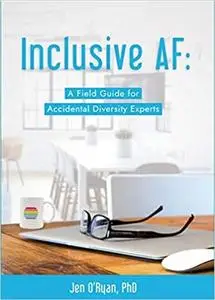 Inclusive AF: A Field Guide for Accidental Diversity Experts by Double Tall Consulting
English | September 11, 2020 | ISBN: 1951591305 | 168 pages | EPUB | 0.67 Mb
Do your potential customers, clients, and employees see themselves reflected in your company and brand?
People are looking for more than taglines or marketing campaigns that say the "right thing". Inclusiveness is an element of culture that follows the entire lifecycle of a customer, client, or employee relationship.
In Inclusive AF: A Field Guide for Accidental Diversity Experts, Dr. Jen O'Ryan offers a three-part roadmap for anyone thinking about inclusion and diversity in the workplace. You'll learn how to design inclusive programs that benefit everyone, launch well-defined projects to implement them, and lead people through the changes.
Drawing from personal and professional experience, this heartfelt guide explains how to cultivate a workplace more welcoming for LGBTQ+ individuals - and for everyone else. Using personable anecdotes that emphasize human connection, Jen provides practical advice on moving your projects beyond good intentions.
From initial concept through implementation and post-delivery evaluation, Jen describes incremental changes that lead to lasting culture shifts. She helps the reader avoid issues that cause projects to falter, and advises on "unseen" influences that can impact those outcomes.
Implementing cultural change takes work, but the end result is worth the effort: improved profitability and innovation, employee retention, productivity, and well-being of all. It's time to get Inclusive AF!
Feel Free to contact me for book requests, informations or feedbacks.
Without You And Your Support We Can't Continue
Thanks For Buying Premium From My Links For Support