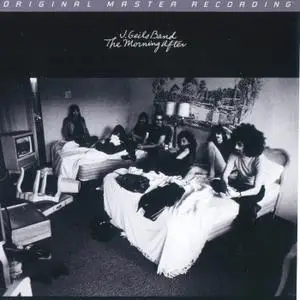 J. Geils Band - The Morning After (1971) [MFSL 2020]
PS3 Rip | SACD ISO | DSD64 2.0 > 1-bit/2.8224 MHz | 34:50 minutes | Scans included | 1,02 GB
or FLAC (converted with foobar2000 to tracks) 24bit/96 kHz | Full Scans included | 835 MB
Mobile Fidelity Sound Lab # UDSACD 2206
The trashed hotel room and communal living depicted on the cover of the J. Geils Band's sophomore album tell you all you need know about the music, spirit, and energy spilling from within The Morning After. Shot through with raw, lean Rock n' Roll sparked by juke-joint blues and loose rhythms, the 1971 set comes on like the most fun, party-still-raging hangover any group in the 70s enjoyed. And now it rolls with an abandon that takes you inside the sweaty, smoky roadhouses and wall-to-wall-packed clubs the group dominated in its heyday. Spirited, Blues-Driven Rock n' Roll Comes on Like a Never-Ending Party: features ace performances by harmonica player Magic Dick Salwitz and vocalist Peter Wolf.
Mastered from the original master tapes and strictly limited to 2,000 numbered copies, Mobile Fidelity's hybrid SACD achieves a sonic acumen that brings you face-to-face with the sextet's white-hot instrumental prowess and magnetic personalities. It's always been difficult to single out just one member of the band given the cohesive bluster the ensemble achieves as a whole, but this collectible audiophile edition allows you to do just that if you so choose, by way of superb imaging and separation. As for the band's trademark dynamics? Here, they feel like they're on the verge of exploding.
The Morning After is a near perfect follow-up to the J. Geils Band's self-titled debut album. It's more of the same winning blend of rocked-out blues, jumped-up soul, and pure rock & roll wildness with enough attitude and energy to get a club full of people from zero to sweaty in less than 60 seconds. Featuring the original versions of songs that became radio staples in their live incarnations ("Looking for a Love," the Magic Dick showcase "Whammer Jammer"), a batch of covers of rare soul gems ("So Sharp," Don Covay's "The Usual Place," the aforementioned "Looking for a Love"), and some fine originals (the rip-roaring opener "I Don't Need You No More," the very funky "Gotta Have Your Love," and the heart-rending ballad "Cry One More Time," which was covered memorably by Gram Parsons on G.P.), The Morning After is definite proof that the J. Geils Band were well on their way to becoming one of the best rock & roll bands of any era.
Tracklist:
01. I Don't Need You No More
02. Whammer Jammer
03. So Sharp
04. The Usual Place
05. Gotta Have Your Love
06. Looking For A Love
07. Gonna Find Me A New Love
08. Cry One More Time
09. Floyd's Hotel
10. It Ain't What You Do (It's How You Do It!)
Personnel
Peter Wolf - lead vocals
J. Geils - guitar
Magic Dick - harmonica
Seth Justman - keyboards
Danny Klein - bass
Stephen Bladd - drums
Mastered by Shawn R. Britton at Mobile Fidelity Sound Lab, Sebastopol, CA.
foobar2000 1.6 / Dynamic Range Meter 1.1.1

––––––––––––––––––––––––––––––––––––––––
Analyzed: J. Geils Band / The Morning After
––––––––––––––––––––––––––––––––––––––––

DR Peak RMS Duration Track
––––––––––––––––––––––––––––––––––––––––
DR10 -5.98 dB -17.96 dB 2:38 01-I Don't Need You No More
DR10 -6.03 dB -19.39 dB 2:37 02-Whammer Jammer
DR11 -6.22 dB -19.50 dB 3:11 03-So Sharp
DR10 -6.29 dB -18.61 dB 2:46 04-The Usual Place
DR11 -5.73 dB -18.46 dB 4:34 05-Gotta Have Your Love
DR9 -6.07 dB -17.82 dB 3:47 06-Looking For A Love
DR11 -5.76 dB -19.09 dB 3:24 07-Gonna Find Me A New Love
DR10 -5.93 dB -18.86 dB 3:23 08-Cry One More Time
DR11 -5.90 dB -18.66 dB 3:12 09-Floyd's Hotel
DR11 -6.05 dB -18.88 dB 5:17 10-It Ain't What You Do (It's How You Do It!)
––––––––––––––––––––––––––––––––––––––––

Number of tracks: 10
Official DR value: DR10

Samplerate: 2822400 Hz / PCM Samplerate: 176400 Hz
Channels: 2
Bits per sample: 1
Bitrate: 5645 kbps
Codec: DSD64


Thanks to PS³SACD!
Uncompressed SACD ISO size > 1,41 GB
>