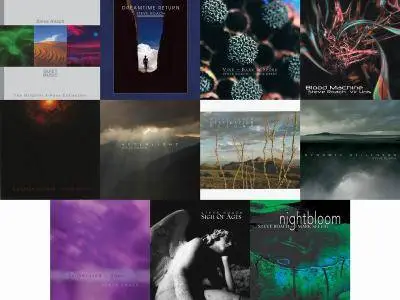 Steve Roach - 11 Albums (1986-2010)
EAC Rip | FLAC (image+.cue+log) - 4,71 GB | MP3 CBR 320 kbps (LAME 3.93) - 2,45 GB | Covers - 376 MB
Genre: Electronic, Ambient | RAR 3% Rec. | Label: Projekt, Fortuna Records, Timeroom Editions, GreenHouseMusic
With his distinctive melange of analogue and digital synthesisers, acoustic instrumentation and highly imaginative soundscaping, Steve Roach is a giant in modern ambient and one of the most respected electronic musicians in the world. He's been noted for the deep inspiration he draws from the European electronic tradition, and you can certainly hear the legacy of German psychedelic electronica and spacemusic throughout his work; sometimes not in melody, but certainly in its atmosphere and large, reverberant spaces. Another major source of inspiration for Roach is desert wilderness, including the starkly beautiful deserts and wide open spaces of his Arizona home which continue to color his music to this day. After four decades of recording, Steve Roach's well of inspiration remains as deep as ever. Steve Roach has an enormous catalogue of releases for fans to explore. Ever-productive, always thoughtful and refusing to be tied down to any one style, his music commands a large, devoted following and his innovations have inspired a whole generation of downtempo electro-acoustic composers and sound designers.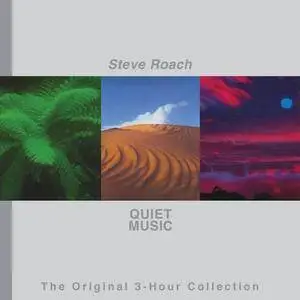 Steve Roach - Quiet Music (1986) [3CD Reissue 2011]
EAC Rip | FLAC (image+.cue+log) - 754 MB | MP3 CBR 320 kbps (LAME 3.93) - 426 MB | Covers - 41 MB
Genre: Ambient | RAR 3% Rec. | Label: Projekt (Projekt 263)
CD 1 Tracklist (Quiet Music 1):
01. The Green Place, Part I
02. The Green Place, Part II
Total time:
01:01:27
CD 2 Tracklist (Quiet Music 2):
01. See Things
02. Towards The Blue
03. Something In Tears
04. A Few More Moments
05. Air And Light
Total time:
59:43
CD 3 Tracklist (Quiet Music 3):
01. Dreaming And Sleep
02. Quiet Canon
03. Sleep And Dreaming
Total time:
59:49
Exact Audio Copy V1.0 beta 2 from 29. April 2011

Отчёт EAC об извлечении, выполненном 10. сентября 2011, 1:04

Steve Roach / Quiet Music (The Original 3-Hour Collection) (CD 1)

Дисковод: PLEXTOR CD-R PREMIUM2 Adapter: 0 ID: 0

Режим чтения : Достоверность
Использование точного потока : Да
Отключение кэша аудио : Да
Использование указателей C2 : Нет

Коррекция смещения при чтении : 30
Способность читать области Lead-in и Lead-out : Да
Заполнение пропущенных сэмплов тишиной : Да
Удаление блоков с тишиной в начале и конце : Нет
При вычислениях CRC использовались нулевые сэмплы : Да
Интерфейс : Встроенный Win32-интерфейс для Win NT/2000

Выходной формат : Внутренние WAV-операции
Формат сэмплов : 44.100 Гц; 16 бит; стерео


TOC извлечённого CD

Трек | Старт | Длительность | Начальный сектор | Конечный сектор
––––––––––––––––––––––––––––––––––-
1 | 0:00.00 | 31:06.70 | 0 | 140019
2 | 31:06.70 | 30:20.20 | 140020 | 276539


Характеристики диапазона извлечения и сообщения об ошибках

Выбранный диапазон

Имя файла F:\Steve Roach - Quiet Music (The Original 3-Hour Collection) - 2011\Steve Roach - Quiet Music (The Original 3-Hour Collection) (CD 1).wav

Пиковый уровень 65.4 %
Скорость извлечения 6.6 X
Качество диапазона 99.9 %
CRC теста BDF1D245
CRC копии BDF1D245
Копирование… OK

Ошибок не произошло


AccurateRip: сводка

Трек 1 отсутствует в базе данных
Трек 2 отсутствует в базе данных

Ни одного трека нет в базе AccurateRip

Конец отчёта

==== Контрольная сумма отчёта EB3247277D4A037F0D1BCC86484A10D4FE0EEA4D895C087478F243F9D40479BF ====
[CUETools log; Date: 13.06.2017 16:37:46; Version: 2.1.4]
[CTDB TOCID: wM4cu71WpsxNS7Sm3zRzO_dfoNo-] found.
Track | CTDB Status
1 | (15/16) Accurately ripped
2 | (16/16) Accurately ripped
[AccurateRip ID: 00065b30-0010ee9d-190e6702] found.
Track [ CRC | V2 ] Status
01 [9bf7eeed|a2db6967] (00+23/23) Accurately ripped
02 [76372f15|4748d2ff] (00+22/22) Accurately ripped

Track Peak [ CRC32 ] [W/O NULL] [ LOG ]
– 65,4 [BDF1D245] [E748D6E0] CRC32
01 65,4 [F26FFB4D] [8288CA83]
02 55,7 [C1681D16] [27BD5B1E]
Exact Audio Copy V1.0 beta 2 from 29. April 2011

Отчёт EAC об извлечении, выполненном 10. сентября 2011, 1:31

Steve Roach / Quiet Music (The Original 3-Hour Collection) (CD 2)

Дисковод: PLEXTOR CD-R PREMIUM2 Adapter: 0 ID: 0

Режим чтения : Достоверность
Использование точного потока : Да
Отключение кэша аудио : Да
Использование указателей C2 : Нет

Коррекция смещения при чтении : 30
Способность читать области Lead-in и Lead-out : Да
Заполнение пропущенных сэмплов тишиной : Да
Удаление блоков с тишиной в начале и конце : Нет
При вычислениях CRC использовались нулевые сэмплы : Да
Интерфейс : Встроенный Win32-интерфейс для Win NT/2000

Выходной формат : Внутренние WAV-операции
Формат сэмплов : 44.100 Гц; 16 бит; стерео


TOC извлечённого CD

Трек | Старт | Длительность | Начальный сектор | Конечный сектор
––––––––––––––––––––––––––––––––––-
1 | 0:00.00 | 5:48.04 | 0 | 26103
2 | 5:48.04 | 3:20.46 | 26104 | 41149
3 | 9:08.50 | 5:20.46 | 41150 | 65195
4 | 14:29.21 | 13:08.25 | 65196 | 124320
5 | 27:37.46 | 32:05.41 | 124321 | 268736


Характеристики диапазона извлечения и сообщения об ошибках

Выбранный диапазон

Имя файла F:\Steve Roach - Quiet Music (The Original 3-Hour Collection) - 2011\Steve Roach - Quiet Music (The Original 3-Hour Collection) (CD 2).wav

Пиковый уровень 59.9 %
Скорость извлечения 6.7 X
Качество диапазона 100.0 %
CRC теста 670DC7DD
CRC копии 670DC7DD
Копирование… OK

Ошибок не произошло


AccurateRip: сводка

Трек 1 отсутствует в базе данных
Трек 2 отсутствует в базе данных
Трек 3 отсутствует в базе данных
Трек 4 отсутствует в базе данных
Трек 5 отсутствует в базе данных

Ни одного трека нет в базе AccurateRip

Конец отчёта

==== Контрольная сумма отчёта 7F43EA1588B0BC98EA0AB7361679FB1BDF4876BF62E7345148D7A06E685142D5 ====
[CUETools log; Date: 13.06.2017 16:38:10; Version: 2.1.4]
[CTDB TOCID: tEHD8YTTFy2C5uq15_zC1ChmIFM-] found.
Track | CTDB Status
1 | (15/15) Accurately ripped
2 | (15/15) Accurately ripped
3 | (15/15) Accurately ripped
4 | (15/15) Accurately ripped
5 | (15/15) Accurately ripped
[AccurateRip ID: 000804c4-0028bf86-390dff05] found.
Track [ CRC | V2 ] Status
01 [71247923|d10657ba] (00+23/23) Accurately ripped
02 [4f8928ea|9367bcb6] (00+23/23) Accurately ripped
03 [2df8985f|cd22d3ff] (00+23/23) Accurately ripped
04 [eec6bf7d|3338665e] (00+23/23) Accurately ripped
05 [94c8ab7c|35e37ee9] (00+23/23) Accurately ripped

Track Peak [ CRC32 ] [W/O NULL] [ LOG ]
– 59,9 [670DC7DD] [BFA30DAC] CRC32
01 57,5 [4B129648] [CC7AD63B]
02 45,2 [7715C7C7] [B1DC5F77]
03 42,8 [B54A515B] [D90D4920]
04 59,9 [A930EE7E] [D31229A6]
05 57,2 [6F62FBA6] [BD8EF906]
Exact Audio Copy V1.0 beta 2 from 29. April 2011

Отчёт EAC об извлечении, выполненном 10. сентября 2011, 0:41

Steve Roach / Quiet Music (The Original 3-Hour Collection) (CD 3)

Дисковод: PLEXTOR CD-R PREMIUM2 Adapter: 0 ID: 0

Режим чтения : Достоверность
Использование точного потока : Да
Отключение кэша аудио : Да
Использование указателей C2 : Нет

Коррекция смещения при чтении : 30
Способность читать области Lead-in и Lead-out : Да
Заполнение пропущенных сэмплов тишиной : Да
Удаление блоков с тишиной в начале и конце : Нет
При вычислениях CRC использовались нулевые сэмплы : Да
Интерфейс : Встроенный Win32-интерфейс для Win NT/2000

Выходной формат : Внутренние WAV-операции
Формат сэмплов : 44.100 Гц; 16 бит; стерео


TOC извлечённого CD

Трек | Старт | Длительность | Начальный сектор | Конечный сектор
––––––––––––––––––––––––––––––––––-
1 | 0:00.00 | 21:44.59 | 0 | 97858
2 | 21:44.59 | 7:51.16 | 97859 | 133199
3 | 29:36.00 | 30:13.22 | 133200 | 269196


Характеристики диапазона извлечения и сообщения об ошибках

Выбранный диапазон

Имя файла F:\Steve Roach - Quiet Music (The Original 3-Hour Collection) - 2011\Steve Roach - Quiet Music (The Original 3-Hour Collection) (CD 3).wav

Пиковый уровень 69.9 %
Скорость извлечения 6.8 X
Качество диапазона 100.0 %
CRC теста FB94CC69
CRC копии FB94CC69
Копирование… OK

Ошибок не произошло


AccurateRip: сводка

Трек 1 отсутствует в базе данных
Трек 2 отсутствует в базе данных
Трек 3 отсутствует в базе данных

Ни одного трека нет в базе AccurateRip

Конец отчёта

==== Контрольная сумма отчёта D111EF35299C3887DB278588C1C69CC5BDC52A342FFF781186278C1A987F2D4B ====
[CUETools log; Date: 13.06.2017 16:39:25; Version: 2.1.4]
[CTDB TOCID: Br1OG3c0aOLs6692_2URYcE5OTA-] found.
Track | CTDB Status
1 | (16/16) Accurately ripped
2 | (16/16) Accurately ripped
3 | (16/16) Accurately ripped
[AccurateRip ID: 0007a220-001983ab-230e0503] found.
Track [ CRC | V2 ] Status
01 [009b2ab8|45031fba] (00+23/23) Accurately ripped
02 [5b8b4114|ed36a057] (00+23/23) Accurately ripped
03 [46e646bd|0252c1f3] (00+23/23) Accurately ripped

Track Peak [ CRC32 ] [W/O NULL] [ LOG ]
– 69,9 [FB94CC69] [787936FF] CRC32
01 65,1 [0C31102C] [26F18231]
02 56,9 [DF34702B] [3B5E7193]
03 69,9 [8E324367] [0600C6F6]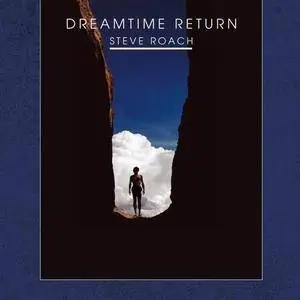 Steve Roach - Dreamtime Return (1988)
EAC Rip | FLAC (image+.cue+log) - 604 MB | MP3 CBR 320 kbps (LAME 3.93) - 308 MB | Covers - 40 MB
Genre: Electronic, Ambient | RAR 3% Rec. | Label: Fortuna Records (18055-2)
CD 1 Tracklist:
01. Towards The Dream
02. The Continent
03. Songline
04. Airtribe Meets The Dream Ghost
05. A Circular Ceremony
06. The Other Side
07. Magnificent Gallery
08. Truth In Passing
09. Australian Dawn - The Quiet Earth Cries Inside
Total time:
01:08:01
CD 2 Tracklist:
01. Looking For Safety
02. Through A Strong Eye
03. The Ancient Day
04. Red Twilight With The Old Ones
05. The Return
Total time:
01:02:44
Exact Audio Copy V0.99 prebeta 4 from 23. January 2008

Отчёт EAC об извлечении, выполненном 31. мая 2010, 23:10

Steve Roach / Dreamtime Return (cd1)

Дисковод: ASUS DRW-20B1LT Adapter: 4 ID: 0

Режим чтения : Достоверность
Использование точного потока : Да
Отключение кэша аудио : Да
Использование указателей C2 : Нет

Коррекция смещения при чтении : 6
Способность читать области Lead-in и Lead-out : Нет
Заполнение пропущенных сэмплов тишиной : Да
Удаление блоков с тишиной в начале и конце : Нет
При вычислениях CRC использовались нулевые сэмплы : Да
Интерфейс : Встроенный Win32-интерфейс для Win NT/2000

Выходной формат : Пользовательский кодировщик
Выбранный битрейт : 768 kBit/s
Качество : Высокий
Добавление ID3-тэга : Нет
Утилита сжатия : D:\Program Files\Exact Audio Copy\Flac\Flac.exe
Дополнительные параметры : -8 –delete-input-file -o "D:\CDImage.flac" -V %s


TOC извлечённого CD

Трек | Старт | Длительность | Начальный сектор | Конечный сектор
––––––––––––––––––––––––––––––––––-
1 | 0:00.00 | 7:09.63 | 0 | 32237
2 | 7:09.63 | 4:49.12 | 32238 | 53924
3 | 11:59.00 | 3:10.10 | 53925 | 68184
4 | 15:09.10 | 7:00.18 | 68185 | 99702
5 | 22:09.28 | 11:20.42 | 99703 | 150744
6 | 33:29.70 | 13:16.35 | 150745 | 210479
7 | 46:46.30 | 6:11.65 | 210480 | 238369
8 | 52:58.20 | 8:44.58 | 238370 | 277727
9 | 61:43.03 | 6:17.50 | 277728 | 306052


Характеристики диапазона извлечения и сообщения об ошибках

Выбранный диапазон

Имя файла D:\Steve Roach - Dreamtime Return (cd1).wav

Пиковый уровень 74.9 %
Качество диапазона 99.9 %
CRC теста 6A20E207
CRC копии 6A20E207
Копирование… OK

Ошибок не произошло


AccurateRip: сводка

Трек 1 точное извлечение (доверие 15) [03FA0C9C]
Трек 2 точное извлечение (доверие 15) [53641E4C]
Трек 3 точное извлечение (доверие 15) [70ED3E10]
Трек 4 точное извлечение (доверие 15) [467F5681]
Трек 5 точное извлечение (доверие 15) [90C3B9DF]
Трек 6 точное извлечение (доверие 15) [0E605E05]
Трек 7 точное извлечение (доверие 15) [DF638221]
Трек 8 точное извлечение (доверие 15) [0EE98C8B]
Трек 9 точное извлечение (доверие 16) [458A50A5]

Все треки извлечены точно

Конец отчёта
[CUETools log; Date: 13.06.2017 16:39:46; Version: 2.1.4]
[CTDB TOCID: UiPic_gzB4ltZMmJmmuFIf5.WTg-] found.
Track | CTDB Status
1 | (42/43) Accurately ripped
2 | (43/43) Accurately ripped
3 | (43/43) Accurately ripped
4 | (43/43) Accurately ripped
5 | (42/43) Accurately ripped
6 | (43/43) Accurately ripped
7 | (43/43) Accurately ripped
8 | (42/43) Accurately ripped
9 | (41/43) Accurately ripped
[AccurateRip ID: 0015eef3-00a5710b-580ff009] found.
Track [ CRC | V2 ] Status
01 [03fa0c9c|e60b5445] (22+28/54) Accurately ripped
02 [53641e4c|04dc1725] (22+28/54) Accurately ripped
03 [70ed3e10|9690c40b] (22+28/54) Accurately ripped
04 [467f5681|e4cc38cd] (22+27/53) Accurately ripped
05 [90c3b9df|d641fdc6] (22+28/54) Accurately ripped
06 [0e605e05|d983c24e] (22+27/53) Accurately ripped
07 [df638221|5124677e] (22+27/53) Accurately ripped
08 [0ee98c8b|4a73c8c6] (22+26/52) Accurately ripped
09 [458a50a5|d61c43ad] (23+25/52) Accurately ripped
Offsetted by -669:
01 [08332317] (02/54) Accurately ripped
02 [631c3d24] (02/54) Accurately ripped
03 [49f8cf95] (02/54) Accurately ripped
04 [2e839aa4] (02/53) Accurately ripped
05 [14a7c737] (02/54) Accurately ripped
06 [a1e0d8b8] (02/53) Accurately ripped
07 [0b9d9195] (02/53) Accurately ripped
08 [b94828a3] (02/52) Accurately ripped
09 [8918de8f] (02/52) Accurately ripped

Track Peak [ CRC32 ] [W/O NULL] [ LOG ]
– 74,9 [6A20E207] [6E42E8E7] CRC32
01 65,3 [204763D2] [DA307CFD]
02 48,8 [0FB25C60] [A62CA3F4]
03 74,7 [CB56DD93] [8B958CAA]
04 40,8 [C7837757] [2F289A7F]
05 43,8 [C2C9E91F] [0E05BC3A]
06 74,9 [57AD0F3D] [2AEABE2B]
07 41,0 [6193544D] [807497D3]
08 51,7 [C6B0C134] [DC6A5F10]
09 30,8 [4C2C8DA6] [55AD242E]
Exact Audio Copy V0.99 prebeta 4 from 23. January 2008

Отчёт EAC об извлечении, выполненном 31. мая 2010, 23:38

Steve Roach / Dreamtime Return CD2

Дисковод: ASUS DRW-20B1LT Adapter: 4 ID: 0

Режим чтения : Достоверность
Использование точного потока : Да
Отключение кэша аудио : Да
Использование указателей C2 : Нет

Коррекция смещения при чтении : 6
Способность читать области Lead-in и Lead-out : Нет
Заполнение пропущенных сэмплов тишиной : Да
Удаление блоков с тишиной в начале и конце : Нет
При вычислениях CRC использовались нулевые сэмплы : Да
Интерфейс : Встроенный Win32-интерфейс для Win NT/2000

Выходной формат : Пользовательский кодировщик
Выбранный битрейт : 768 kBit/s
Качество : Высокий
Добавление ID3-тэга : Нет
Утилита сжатия : D:\Program Files\Exact Audio Copy\Flac\Flac.exe
Дополнительные параметры : -8 –delete-input-file -o "D:\CDImage.flac" -V %s


TOC извлечённого CD

Трек | Старт | Длительность | Начальный сектор | Конечный сектор
––––––––––––––––––––––––––––––––––-
1 | 0:00.00 | 31:21.72 | 0 | 141146
2 | 31:21.72 | 6:50.63 | 141147 | 171959
3 | 38:12.60 | 6:05.02 | 171960 | 199336
4 | 44:17.62 | 9:53.10 | 199337 | 243821
5 | 54:10.72 | 8:33.33 | 243822 | 282329


Характеристики диапазона извлечения и сообщения об ошибках

Выбранный диапазон

Имя файла D:\Steve Roach - Dreamtime Return CD2.wav

Пиковый уровень 70.2 %
Качество диапазона 100.0 %
CRC теста 74B82D40
CRC копии 74B82D40
Копирование… OK

Ошибок не произошло


AccurateRip: сводка

Трек 1 точное извлечение (доверие 10) [FFED9DE8]
Трек 2 точное извлечение (доверие 11) [10FBE179]
Трек 3 точное извлечение (доверие 12) [E50CE0ED]
Трек 4 точное извлечение (доверие 11) [3672C648]
Трек 5 точное извлечение (доверие 11) [F195A176]

Все треки извлечены точно

Конец отчёта
[CUETools log; Date: 13.06.2017 16:40:17; Version: 2.1.4]
[CTDB TOCID: aWNOUXC29X1k6RkKZkB6RPiG9ZI-] found.
Track | CTDB Status
1 | (31/32) Accurately ripped
2 | (32/32) Accurately ripped
3 | (31/32) Accurately ripped
4 | (32/32) Accurately ripped
5 | (32/32) Accurately ripped
[AccurateRip ID: 000fd904-0044cbc5-490eb405] found.
Track [ CRC | V2 ] Status
01 [ffed9de8|cc52c7f7] (16+19/37) Accurately ripped
02 [10fbe179|50d3fd14] (17+19/38) Accurately ripped
03 [e50ce0ed|b5c63df0] (18+19/39) Accurately ripped
04 [3672c648|84f932ef] (17+20/39) Accurately ripped
05 [f195a176|b99d6a8c] (17+19/38) Accurately ripped
Offsetted by -1350:
01 [e6c18b28] (02/37) Accurately ripped
02 [d3b228cb] (02/38) Accurately ripped
03 [e520215f] (02/39) Accurately ripped
04 [08e5981a] (02/39) Accurately ripped
05 [0ea425f2] (02/38) Accurately ripped

Track Peak [ CRC32 ] [W/O NULL] [ LOG ]
– 70,2 [74B82D40] [6A432511] CRC32
01 66,6 [0DF2E36B] [CA0E3EA0]
02 53,6 [728EBF68] [A98017F2]
03 70,2 [7E2A17DF] [646471D0]
04 30,2 [8F7AE9B4] [1F3C17EB]
05 57,2 [B5D179A2] [6FFCA6C1]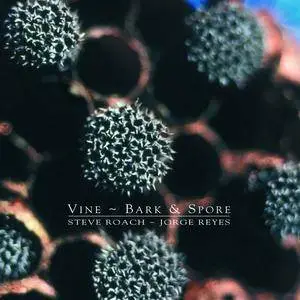 Steve Roach & Jorge Reyes - Vine ~ Bark & Spore (2000)
EAC Rip | FLAC (image+.cue+log) - 387 MB | MP3 CBR 320 kbps (LAME 3.93) - 169 MB | Covers - 61 MB
Genre: Ambient | RAR 3% Rec. | Label: Timeroom Editions (Timeroom Editions 5)
Tracklist:
01. Clearing Place
02. Sorcerer's Temple
03. The Holy Dirt
04. Night Journey
05. Spore And Bark
06. Healing Temple
07. Gone From Here
Total time:
01:12:00
Exact Audio Copy V0.99 prebeta 4 from 23. January 2008

EAC extraction logfile from 23. January 2009, 23:30

Steve Roach & Jorge Reyes / Vine ~ Bark & Spore

Used drive : PIONEER DVD-RW DVR-111 Adapter: 3 ID: 0

Read mode : Secure
Utilize accurate stream : Yes
Defeat audio cache : Yes
Make use of C2 pointers : No

Read offset correction : 48
Overread into Lead-In and Lead-Out : No
Fill up missing offset samples with silence : Yes
Delete leading and trailing silent blocks : No
Null samples used in CRC calculations : Yes
Used interface : Installed external ASPI interface

Used output format : User Defined Encoder
Selected bitrate : 1024 kBit/s
Quality : High
Add ID3 tag : No
Command line compressor : C:\Program Files\Exact Audio Copy\Flac\flac.exe
Additional command line options : -8 -V -T "ARTIST=%a" -T "ALBUM=%g" -T "DATE=%y" -T "GENRE=%m" %s -o %d


TOC of the extracted CD

Track | Start | Length | Start sector | End sector
––––––––––––––––––––––––––––-
1 | 0:00.00 | 2:38.00 | 0 | 11849
2 | 2:38.00 | 5:21.45 | 11850 | 35969
3 | 7:59.45 | 13:43.30 | 35970 | 97724
4 | 21:43.00 | 13:38.00 | 97725 | 159074
5 | 35:21.00 | 11:21.00 | 159075 | 210149
6 | 46:42.00 | 5:50.00 | 210150 | 236399
7 | 52:32.00 | 19:27.58 | 236400 | 323982


Range status and errors

Selected range

Filename D:\temp\nnm\Steve Roach & Jorge Reyes - Vine ~ Bark & Spore.wav

Peak level 98.8 %
Range quality 100.0 %
Test CRC 20430267
Copy CRC 20430267
Copy OK

No errors occurred


AccurateRip summary

Track 1 cannot be verified as accurate (confidence 1) [3EACF0BD], AccurateRip returned [9A39928B]
Track 2 cannot be verified as accurate (confidence 1) [30F4CFB4], AccurateRip returned [0318EA3D]
Track 3 cannot be verified as accurate (confidence 1) [FAB75013], AccurateRip returned [792C486C]
Track 4 cannot be verified as accurate (confidence 1) [FB91DF23], AccurateRip returned [FB621050]
Track 5 cannot be verified as accurate (confidence 1) [36A14951], AccurateRip returned [40FF42B8]
Track 6 cannot be verified as accurate (confidence 1) [23E1C2EB], AccurateRip returned [6ED01D31]
Track 7 cannot be verified as accurate (confidence 1) [03C0575F], AccurateRip returned [D5EE06DB]

No tracks could be verified as accurate
You may have a different pressing from the one(s) in the database

End of status report
[CUETools log; Date: 13.06.2017 16:40:41; Version: 2.1.4]
[CTDB TOCID: APmfNzp1YGNbQVX4QltisJk8Prc-] found.
Track | CTDB Status
1 | (9/9) Accurately ripped
2 | (9/9) Accurately ripped
3 | (9/9) Accurately ripped
4 | (9/9) Accurately ripped
5 | (9/9) Accurately ripped
6 | (9/9) Accurately ripped
7 | (9/9) Accurately ripped
[AccurateRip ID: 001067d1-006825ea-4210df07] found.
Track [ CRC | V2 ] Status
01 [3eacf0bd|05eb990b] (06+03/21) Accurately ripped
02 [30f4cfb4|5896a301] (06+03/21) Accurately ripped
03 [fab75013|e1d872f0] (06+03/20) Accurately ripped
04 [fb91df23|284fe31a] (06+03/21) Accurately ripped
05 [36a14951|04ff07a5] (06+03/20) Accurately ripped
06 [23e1c2eb|55a7e4b3] (06+03/20) Accurately ripped
07 [03c0575f|39893b2c] (06+03/20) Accurately ripped
Offsetted by 98:
01 [9a39928b] (05/21) Accurately ripped
02 [0318ea3d] (05/21) Accurately ripped
03 [792c486c] (05/20) Accurately ripped
04 [fb621050] (05/21) Accurately ripped
05 [40ff42b8] (05/20) Accurately ripped
06 [6ed01d31] (05/20) Accurately ripped
07 [d5ee06db] (05/20) Accurately ripped

Track Peak [ CRC32 ] [W/O NULL] [ LOG ]
– 98,8 [20430267] [C806DF5C] CRC32
01 98,8 [0B860589] [4A6A30B3]
02 98,8 [87A4EF03] [216275CD]
03 98,8 [25ABF9A9] [1BDF35DA]
04 98,8 [077DDD2E] [6333F25A]
05 98,8 [621D8101] [7587F6AD]
06 98,8 [D2D04986] [CE33D5C6]
07 98,8 [AF4196D5] [971C3518]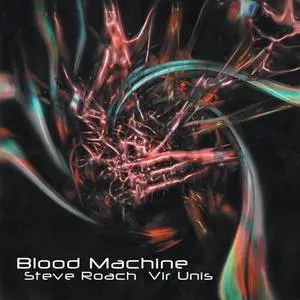 Steve Roach & Vir Unis - Blood Machine (2001)
EAC Rip | FLAC (image+.cue+log) - 432 MB | MP3 CBR 320 kbps (LAME 3.93) - 172 MB | Covers - 49 MB
Genre: Techno, Ambient | RAR 3% Rec. | Label: GreenHouseMusic (GHM.01.01)
Tracklist:
01. Dissolving The Code
02. Evolution
03. Impulse
04. Neurotropic
05. Mindheart Infusion
06. Sense
07. Neural Connection
08. In The Marrow
Total time:
01:13:16
Exact Audio Copy V1.0 beta 3 from 29. August 2011

Отчёт EAC об извлечении, выполненном 28. мая 2013, 12:42

Steve Roach & Vir Unis / Blood Machine

Дисковод: PLEXTOR CD-R PREMIUM2 Adapter: 3 ID: 0

Режим чтения : Достоверность
Использование точного потока : Да
Отключение кэша аудио : Да
Использование указателей C2 : Нет

Коррекция смещения при чтении : 30
Способность читать области Lead-in и Lead-out : Да
Заполнение пропущенных сэмплов тишиной : Да
Удаление блоков с тишиной в начале и конце : Нет
При вычислениях CRC использовались нулевые сэмплы : Да
Интерфейс : Встроенный Win32-интерфейс для Win NT/2000

Выходной формат : Внутренние WAV-операции
Формат сэмплов : 44.100 Гц; 16 бит; стерео


TOC извлечённого CD

Трек | Старт | Длительность | Начальный сектор | Конечный сектор
––––––––––––––––––––––––––––––––––-
1 | 0:00.00 | 7:28.00 | 0 | 33599
2 | 7:28.00 | 11:38.00 | 33600 | 85949
3 | 19:06.00 | 10:07.00 | 85950 | 131474
4 | 29:13.00 | 6:23.00 | 131475 | 160199
5 | 35:36.00 | 12:20.00 | 160200 | 215699
6 | 47:56.00 | 7:57.00 | 215700 | 251474
7 | 55:53.00 | 12:07.00 | 251475 | 305999
8 | 68:00.00 | 5:15.74 | 306000 | 329698


Характеристики диапазона извлечения и сообщения об ошибках

Выбранный диапазон

Имя файла F:\Steve Roach & Vir Unis - Blood Machine - 2001\Steve Roach & Vir Unis - Blood Machine.wav

Пиковый уровень 96.0 %
Скорость извлечения 6.1 X
Качество диапазона 99.9 %
CRC теста 877B6BF5
CRC копии 877B6BF5
Копирование… OK

Ошибок не произошло


AccurateRip: сводка

Трек 1 : извлечено точно (доверие 7) [6E2F8146] (AR v1)
Трек 2 : извлечено точно (доверие 7) [5B1B5AEC] (AR v1)
Трек 3 : извлечено точно (доверие 7) [F2D6DE2E] (AR v1)
Трек 4 : извлечено точно (доверие 7) [468FA5B2] (AR v1)
Трек 5 : извлечено точно (доверие 7) [00323AEF] (AR v1)
Трек 6 : извлечено точно (доверие 7) [9859CFDF] (AR v1)
Трек 7 : извлечено точно (доверие 7) [6F5CEBE8] (AR v1)
Трек 8 : извлечено точно (доверие 6) [BF97EC66] (AR v1)

Все треки извлечены точно

Конец отчёта

–– CUETools DB Plugin V2.1.4

[CTDB TOCID: JuX.AJYnm7BJAMpiZ66JeMMe84s-] found
Submit result: Время ожидания операции истекло
Track | CTDB Status
1 | (4/4) Accurately ripped
2 | (4/4) Accurately ripped
3 | (4/4) Accurately ripped
4 | (4/4) Accurately ripped
5 | (4/4) Accurately ripped
6 | (4/4) Accurately ripped
7 | (4/4) Accurately ripped
8 | (4/4) Accurately ripped


==== Контрольная сумма отчёта DFCF5B9389343B379E405A219520BB8B2BB896EC3F5CAF5EF83E86017AE2D6F4 ====
[CUETools log; Date: 13.06.2017 16:41:05; Version: 2.1.4]
[CTDB TOCID: JuX.AJYnm7BJAMpiZ66JeMMe84s-] found.
Track | CTDB Status
1 | (11/11) Accurately ripped
2 | (11/11) Accurately ripped
3 | (11/11) Accurately ripped
4 | (11/11) Accurately ripped
5 | (11/11) Accurately ripped
6 | (11/11) Accurately ripped
7 | (11/11) Accurately ripped
8 | (11/11) Accurately ripped
[AccurateRip ID: 00171a73-009a7227-70112b08] found.
Track [ CRC | V2 ] Status
01 [6e2f8146|5fadeafd] (07+06/21) Accurately ripped
02 [5b1b5aec|5e211465] (07+06/21) Accurately ripped
03 [f2d6de2e|08e9b643] (07+06/21) Accurately ripped
04 [468fa5b2|572bf633] (07+06/21) Accurately ripped
05 [00323aef|b31c0bba] (07+06/21) Accurately ripped
06 [9859cfdf|a6cd53d7] (07+06/21) Accurately ripped
07 [6f5cebe8|8f6b823e] (07+06/21) Accurately ripped
08 [bf97ec66|3546fbed] (06+06/20) Accurately ripped
Offsetted by 98:
01 [f956333c] (05/21) Accurately ripped
02 [35c40ec3] (05/21) Accurately ripped
03 [92309f52] (05/21) Accurately ripped
04 [a81b531a] (05/21) Accurately ripped
05 [f21e55b9] (05/21) Accurately ripped
06 [ffcbbf90] (05/21) Accurately ripped
07 [85900a02] (05/21) Accurately ripped
08 [62d39115] (05/20) Accurately ripped

Track Peak [ CRC32 ] [W/O NULL] [ LOG ]
– 96,0 [877B6BF5] [B6C5212D] CRC32
01 96,0 [F376A78F] [FEBA4C93]
02 96,0 [DE6FA418] [80DB5549]
03 96,0 [DFAF001F] [A15B52EC]
04 96,0 [9565E645] [BCE745C5]
05 96,0 [9FDBA736] [74B2D0FA]
06 95,9 [3BF8307D] [2ABA355E]
07 96,0 [CD45F4DC] [1DECE1BC]
08 81,5 [907B238A] [4CA72D7D]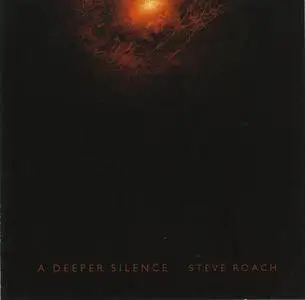 Steve Roach - A Deeper Silence (2008)
EAC Rip | FLAC (image+.cue+log) - 221 MB | MP3 CBR 320 kbps (LAME 3.93) - 173 MB | Covers - 20 MB
Genre: Ambient | RAR 3% Rec. | Label: Timeroom Editions (TM19)
Tracklist:
01. A Deeper Silence
Total time:
01:13:42
Exact Audio Copy V0.99 prebeta 5 from 4. May 2009

EAC extraction logfile from 21. December 2009, 2:03

Steve Roach / A Deeper Silence

Used drive : _NEC DVD_RW ND-3520A Adapter: 1 ID: 0

Read mode : Secure
Utilize accurate stream : Yes
Defeat audio cache : Yes
Make use of C2 pointers : No

Read offset correction : 48
Overread into Lead-In and Lead-Out : No
Fill up missing offset samples with silence : Yes
Delete leading and trailing silent blocks : No
Null samples used in CRC calculations : Yes
Used interface : Installed external ASPI interface

Used output format : User Defined Encoder
Selected bitrate : 768 kBit/s
Quality : High
Add ID3 tag : No
Command line compressor : C:\Program Files (x86)\Exact Audio Copy\FLAC\FLAC.EXE
Additional command line options : -6 -V -T "ARTIST=%a" -T "TITLE=%t" -T "ALBUM=%g" -T "DATE=%y" -T "TRACKNUMBER=%n" -T "GENRE=%m" -T "COMMENT=%e" %s -o %d


TOC of the extracted CD

Track | Start | Length | Start sector | End sector
––––––––––––––––––––––––––––-
1 | 0:00.00 | 73:41.42 | 0 | 331616


Range status and errors

Selected range

Filename C:\A Deeper Silence\Steve Roach - A Deeper Silence.wav

Peak level 36.6 %
Range quality 99.9 %
Copy CRC 6D3030A5
Copy OK

No errors occurred

End of status report
[CUETools log; Date: 13.06.2017 16:41:27; Version: 2.1.4]
[CTDB TOCID: 47bWuBtMOGmtz98EBd8di7OmssI-] found.
Track | CTDB Status
1 | (9/9) Accurately ripped
[AccurateRip ID: 00050f61-000a1ec3-02114501] found.
Track [ CRC | V2 ] Status
01 [15ea4934|8f996f13] (03+07/20) Accurately ripped
Offsetted by -50:
01 [65032a36] (06/20) Accurately ripped

Track Peak [ CRC32 ] [W/O NULL] [ LOG ]
– 36,6 [6D3030A5] [7DA4AC12] CRC32
01 36,6 [6D3030A5] [7DA4AC12] CRC32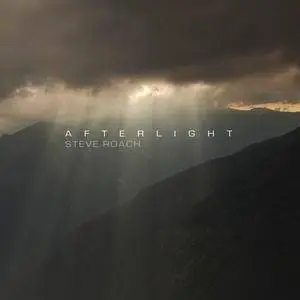 Steve Roach - Afterlight (2009)
EAC Rip | FLAC (image+.cue+log) - 318 MB | MP3 CBR 320 kbps (LAME 3.93) - 174 MB | Covers - 49 MB
Genre: Ambient | RAR 3% Rec. | Label: Timeroom Editions (TM21)
Tracklist:
01. Afterlight
Total time:
01:13:53
Exact Audio Copy V0.99 prebeta 5 from 4. May 2009

EAC extraction logfile from 20. December 2009, 23:25

Steve Roach / Afterlight

Used drive : _NEC DVD_RW ND-3520A Adapter: 1 ID: 0

Read mode : Secure
Utilize accurate stream : Yes
Defeat audio cache : Yes
Make use of C2 pointers : No

Read offset correction : 48
Overread into Lead-In and Lead-Out : No
Fill up missing offset samples with silence : Yes
Delete leading and trailing silent blocks : No
Null samples used in CRC calculations : Yes
Used interface : Installed external ASPI interface

Used output format : User Defined Encoder
Selected bitrate : 768 kBit/s
Quality : High
Add ID3 tag : No
Command line compressor : C:\Program Files (x86)\Exact Audio Copy\FLAC\FLAC.EXE
Additional command line options : -6 -V -T "ARTIST=%a" -T "TITLE=%t" -T "ALBUM=%g" -T "DATE=%y" -T "TRACKNUMBER=%n" -T "GENRE=%m" -T "COMMENT=%e" %s -o %d


TOC of the extracted CD

Track | Start | Length | Start sector | End sector
––––––––––––––––––––––––––––-
1 | 0:00.00 | 73:52.58 | 0 | 332457


Range status and errors

Selected range

Filename C:\Afterlight\Steve Roach - Afterlight.wav

Peak level 52.0 %
Range quality 100.0 %
Copy CRC 8BA750CD
Copy OK

No errors occurred

End of status report
[CUETools log; Date: 13.06.2017 16:42:03; Version: 2.1.4]
[CTDB TOCID: UN4Ek0AVrrbaJ4v81r5kjikwo9s-] found.
Track | CTDB Status
1 | ( 9/11) Accurately ripped
[AccurateRip ID: 000512aa-000a2555-02115001] found.
Track [ CRC | V2 ] Status
01 [b6e0c176|655c0d7e] (11+16/27) Accurately ripped

Track Peak [ CRC32 ] [W/O NULL] [ LOG ]
– 52,0 [8BA750CD] [110AE2DE] CRC32
01 52,0 [8BA750CD] [110AE2DE] CRC32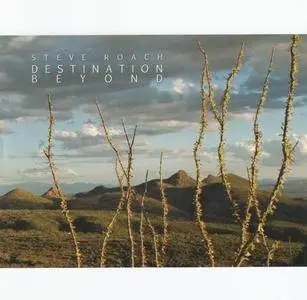 Steve Roach - Destination Beyond (2009)
EAC Rip | FLAC (image+.cue+log) - 389 MB | MP3 CBR 320 kbps (LAME 3.93) - 168 MB | Covers - 28 MB
Genre: Electronic, Ambient | RAR 3% Rec. | Label: Projekt (projekt235)
Tracklist:
01. Destination Beyond
Total time:
01:11:39
Exact Audio Copy V0.99 prebeta 5 from 4. May 2009

EAC extraction logfile from 20. December 2009, 21:56

Steve Roach / Destination Beyond

Used drive : _NEC DVD_RW ND-3520A Adapter: 1 ID: 0

Read mode : Secure
Utilize accurate stream : Yes
Defeat audio cache : Yes
Make use of C2 pointers : No

Read offset correction : 48
Overread into Lead-In and Lead-Out : No
Fill up missing offset samples with silence : Yes
Delete leading and trailing silent blocks : No
Null samples used in CRC calculations : Yes
Used interface : Installed external ASPI interface

Used output format : User Defined Encoder
Selected bitrate : 768 kBit/s
Quality : High
Add ID3 tag : No
Command line compressor : C:\Program Files (x86)\Exact Audio Copy\FLAC\FLAC.EXE
Additional command line options : -6 -V -T "ARTIST=%a" -T "TITLE=%t" -T "ALBUM=%g" -T "DATE=%y" -T "TRACKNUMBER=%n" -T "GENRE=%m" -T "COMMENT=%e" %s -o %d


TOC of the extracted CD

Track | Start | Length | Start sector | End sector
––––––––––––––––––––––––––––-
1 | 0:00.00 | 71:39.26 | 0 | 322450


Range status and errors

Selected range

Filename C:\Destination Beyond\Steve Roach - Destination Beyond.wav

Peak level 89.2 %
Range quality 99.9 %
Copy CRC 439E1D9B
Copy OK

No errors occurred

End of status report
[CUETools log; Date: 13.06.2017 16:42:38; Version: 2.1.4]
[CTDB TOCID: E6uUYpk8RYEHPRiQCpJHR2j7m6o-] found.
Track | CTDB Status
1 | ( 8/17) Accurately ripped
[AccurateRip ID: 0004eb93-0009d727-0210cb01] found.
Track [ CRC | V2 ] Status
01 [922090df|809b7bbc] (11+19/36) Accurately ripped

Track Peak [ CRC32 ] [W/O NULL] [ LOG ]
– 89,2 [439E1D9B] [8AEECE59] CRC32
01 89,2 [439E1D9B] [8AEECE59] CRC32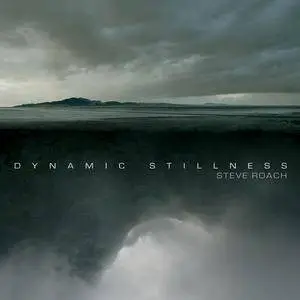 Steve Roach - Dynamic Stillness (2009)
EAC Rip | FLAC (image+.cue+log) - 611 MB | MP3 CBR 320 kbps (LAME 3.93) - 343 MB | Covers - 44 MB
Genre: Ambient | RAR 3% Rec. | Label: Projekt (PRO228)
CD 1 Tracklist:
01. Birth of Still Places
02. Long Tide
03. A Darker Light
04. Opening Sky
Total time:
01:12:44
CD 2 Tracklist:
01. Nature of Things
02. Further Inside
03. Slowly Revealed
04. Canyon Stillness
Total time:
01:13:02
Exact Audio Copy V0.99 prebeta 5 from 4. May 2009

EAC extraction logfile from 20. December 2009, 23:37

Steve Roach / Dynamic Stillness - Disc 1

Used drive : _NEC DVD_RW ND-3520A Adapter: 1 ID: 0

Read mode : Secure
Utilize accurate stream : Yes
Defeat audio cache : Yes
Make use of C2 pointers : No

Read offset correction : 48
Overread into Lead-In and Lead-Out : No
Fill up missing offset samples with silence : Yes
Delete leading and trailing silent blocks : No
Null samples used in CRC calculations : Yes
Used interface : Installed external ASPI interface

Used output format : User Defined Encoder
Selected bitrate : 768 kBit/s
Quality : High
Add ID3 tag : No
Command line compressor : C:\Program Files (x86)\Exact Audio Copy\FLAC\FLAC.EXE
Additional command line options : -6 -V -T "ARTIST=%a" -T "TITLE=%t" -T "ALBUM=%g" -T "DATE=%y" -T "TRACKNUMBER=%n" -T "GENRE=%m" -T "COMMENT=%e" %s -o %d


TOC of the extracted CD

Track | Start | Length | Start sector | End sector
––––––––––––––––––––––––––––-
1 | 0:00.00 | 40:28.64 | 0 | 182163
2 | 40:28.64 | 19:35.25 | 182164 | 270313
3 | 60:04.14 | 7:33.32 | 270314 | 304320
4 | 67:37.46 | 5:06.30 | 304321 | 327300


Range status and errors

Selected range

Filename C:\Dynamic Stillness\CD 1\Steve Roach - Dynamic Stillness - Disc 1.wav

Peak level 74.5 %
Range quality 99.9 %
Copy CRC 9D6F67AC
Copy OK

No errors occurred

End of status report
[CUETools log; Date: 13.06.2017 16:43:02; Version: 2.1.4]
[CTDB TOCID: zAaGJwyL65gjhiGN4CL1ur8dLfM-] found.
Track | CTDB Status
1 | (22/22) Accurately ripped
2 | (22/22) Accurately ripped
3 | (22/22) Accurately ripped
4 | (22/22) Accurately ripped
[AccurateRip ID: 00108ac4-003d7a84-2c110c04] found.
Track [ CRC | V2 ] Status
01 [4ff07d58|913428e3] (13+12/36) Accurately ripped
02 [105fd2bc|9a1444e4] (13+12/36) Accurately ripped
03 [44a90c0f|196fe212] (13+12/36) Accurately ripped
04 [2bd06605|f6f04863] (13+11/35) Accurately ripped
Offsetted by -634:
01 [a5832f81] (00/36) No match (V2 was not tested)
02 [605ad3e6] (00/36) No match (V2 was not tested)
03 [040cab0e] (00/36) No match (V2 was not tested)
04 [9463d3df] (00/35) No match (V2 was not tested)

Track Peak [ CRC32 ] [W/O NULL] [ LOG ]
– 74,5 [9D6F67AC] [31261F39] CRC32
01 74,5 [003DFF88] [114A93BF]
02 70,8 [F12AD345] [9CBAA93D]
03 52,2 [97062634] [95FEF7A5]
04 40,1 [7EDA3ECC] [D52A0668]
Exact Audio Copy V0.99 prebeta 5 from 4. May 2009

EAC extraction logfile from 21. December 2009, 0:37

Steve Roach / Dynamic Stillness - Disc 2

Used drive : _NEC DVD_RW ND-3520A Adapter: 1 ID: 0

Read mode : Secure
Utilize accurate stream : Yes
Defeat audio cache : Yes
Make use of C2 pointers : No

Read offset correction : 48
Overread into Lead-In and Lead-Out : No
Fill up missing offset samples with silence : Yes
Delete leading and trailing silent blocks : No
Null samples used in CRC calculations : Yes
Used interface : Installed external ASPI interface

Used output format : User Defined Encoder
Selected bitrate : 768 kBit/s
Quality : High
Add ID3 tag : No
Command line compressor : C:\Program Files (x86)\Exact Audio Copy\FLAC\FLAC.EXE
Additional command line options : -6 -V -T "ARTIST=%a" -T "TITLE=%t" -T "ALBUM=%g" -T "DATE=%y" -T "TRACKNUMBER=%n" -T "GENRE=%m" -T "COMMENT=%e" %s -o %d


TOC of the extracted CD

Track | Start | Length | Start sector | End sector
––––––––––––––––––––––––––––-
1 | 0:00.00 | 8:50.24 | 0 | 39773
2 | 8:50.24 | 16:58.71 | 39774 | 116194
3 | 25:49.20 | 23:55.56 | 116195 | 223875
4 | 49:45.01 | 23:17.19 | 223876 | 328669


Range status and errors

Selected range

Filename C:\Dynamic Stillness\CD 2\Steve Roach - Dynamic Stillness - Disc 2.wav

Peak level 52.2 %
Range quality 99.9 %
Copy CRC 2E68E7DE
Copy OK

No errors occurred

End of status report
[CUETools log; Date: 13.06.2017 16:43:50; Version: 2.1.4]
[CTDB TOCID: ECpZJZ6wD7yrZ3szgc6eFVya2H0-] found.
Track | CTDB Status
1 | (20/20) Accurately ripped
2 | (20/20) Accurately ripped
3 | (20/20) Accurately ripped
4 | (20/20) Accurately ripped
[AccurateRip ID: 000acfa3-002d45cc-32111e04] found.
Track [ CRC | V2 ] Status
01 [79bb4e2b|226dc247] (12+12/36) Accurately ripped
02 [ecafa901|eb06e3b3] (11+12/35) Accurately ripped
03 [35187f4b|0b68d6e3] (12+12/36) Accurately ripped
04 [4e905243|5e20edcb] (11+12/35) Accurately ripped
Offsetted by -56:
01 [a83c949d] (00/36) No match (V2 was not tested)
02 [0266056c] (00/35) No match (V2 was not tested)
03 [c680644c] (00/36) No match (V2 was not tested)
04 [ba8aba42] (00/35) No match (V2 was not tested)

Track Peak [ CRC32 ] [W/O NULL] [ LOG ]
– 52,2 [2E68E7DE] [F80759E0] CRC32
01 52,2 [D10962BF] [7588AA53]
02 45,3 [102AD642] [875A3026]
03 38,3 [1C1BBB37] [36C83AE3]
04 31,1 [D08AD0B7] [C9BA26FF]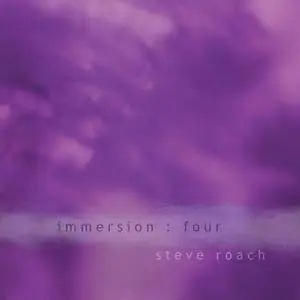 Steve Roach - Immersion Four (2009)
EAC Rip | FLAC (image+.cue+log) - 274 MB | MP3 CBR 320 kbps (LAME 3.93) - 174 MB | Covers - 29 MB
Genre: Ambient | RAR 3% Rec. | Label: Timeroom Editions (TM22)
Tracklist:
01. Immersion: Four
Total time:
01:13:54
Exact Audio Copy V0.99 prebeta 5 from 4. May 2009

EAC extraction logfile from 21. December 2009, 1:52

Steve Roach / Immersion IV

Used drive : _NEC DVD_RW ND-3520A Adapter: 1 ID: 0

Read mode : Secure
Utilize accurate stream : Yes
Defeat audio cache : Yes
Make use of C2 pointers : No

Read offset correction : 48
Overread into Lead-In and Lead-Out : No
Fill up missing offset samples with silence : Yes
Delete leading and trailing silent blocks : No
Null samples used in CRC calculations : Yes
Used interface : Installed external ASPI interface

Used output format : User Defined Encoder
Selected bitrate : 768 kBit/s
Quality : High
Add ID3 tag : No
Command line compressor : C:\Program Files (x86)\Exact Audio Copy\FLAC\FLAC.EXE
Additional command line options : -6 -V -T "ARTIST=%a" -T "TITLE=%t" -T "ALBUM=%g" -T "DATE=%y" -T "TRACKNUMBER=%n" -T "GENRE=%m" -T "COMMENT=%e" %s -o %d


TOC of the extracted CD

Track | Start | Length | Start sector | End sector
––––––––––––––––––––––––––––-
1 | 0:00.00 | 73:53.43 | 0 | 332517


Range status and errors

Selected range

Filename C:\Immersion Four\Steve Roach - Immersion IV.wav

Peak level 75.9 %
Range quality 100.0 %
Copy CRC 5358F41C
Copy OK

No errors occurred

End of status report
[CUETools log; Date: 13.06.2017 16:46:27; Version: 2.1.4]
[CTDB TOCID: Kc8gt3liuJsR5zPqpCRZ72PrDKs-] found.
Track | CTDB Status
1 | (10/11) Accurately ripped
[AccurateRip ID: 000512e6-000a25cd-02115101] found.
Track [ CRC | V2 ] Status
01 [39ad2b2e|838b379b] (08+19/29) Accurately ripped
Offsetted by 30:
01 [7b66d0f1] (02/29) Accurately ripped

Track Peak [ CRC32 ] [W/O NULL] [ LOG ]
– 75,9 [5358F41C] [91A35D5F] CRC32
01 75,9 [5358F41C] [91A35D5F] CRC32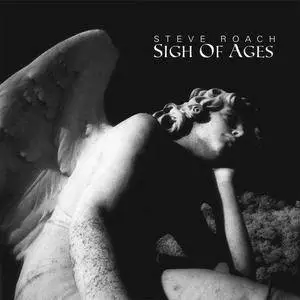 Steve Roach - Sigh Of Ages (2010)
EAC Rip | FLAC (image+.cue+log) - 396 MB | MP3 CBR 320 kbps (LAME 3.93) - 174 MB | Covers - 3 MB
Genre: Ambient | RAR 3% Rec. | Label: Projekt (Projekt246)
Tracklist:
01. Quelling Place
02. The View From Here
03. Sentient Breath
04. Morning of Ages
05. Return of the Majestic 16:03
06. Longing to Be…
Total time:
01:13:50
Exact Audio Copy V0.99 prebeta 5 from 4. May 2009

Отчёт EAC об извлечении, выполненном 3. августа 2010, 21:38

Steve Roach / Sigh Of Ages

Дисковод: ASUS DRW-22B2S Adapter: 3 ID: 0

Режим чтения : Достоверность
Использование точного потока : Да
Отключение кэша аудио : Да
Использование указателей C2 : Нет

Коррекция смещения при чтении : 6
Способность читать области Lead-in и Lead-out : Нет
Заполнение пропущенных сэмплов тишиной : Да
Удаление блоков с тишиной в начале и конце : Нет
При вычислениях CRC использовались нулевые сэмплы : Да
Интерфейс : Встроенный Win32-интерфейс для Win NT/2000

Выходной формат : Пользовательский кодировщик
Выбранный битрейт : 768 kBit/s
Качество : Высокий
Добавление ID3-тэга : Нет
Утилита сжатия : C:\Program Files\Exact Audio Copy\FLAC\FLAC.EXE
Дополнительные параметры : -6 -V -T "ARTIST=%a" -T "TITLE=%t" -T "ALBUM=%g" -T "DATE=%y" -T "TRACKNUMBER=%n" -T "GENRE=%m" -T "COMMENT=%e" %s -o %d


TOC извлечённого CD

Трек | Старт | Длительность | Начальный сектор | Конечный сектор
––––––––––––––––––––––––––––––––––-
1 | 0:00.00 | 8:14.73 | 0 | 37122
2 | 8:14.73 | 10:31.72 | 37123 | 84519
3 | 18:46.70 | 15:47.53 | 84520 | 155597
4 | 34:34.48 | 13:02.23 | 155598 | 214270
5 | 47:36.71 | 16:03.08 | 214271 | 286503
6 | 63:40.04 | 10:10.10 | 286504 | 332263


Характеристики диапазона извлечения и сообщения об ошибках

Выбранный диапазон

Имя файла D:\NEW\Steve Roach - Sigh Of Ages.wav

Пиковый уровень 98.8 %
Качество диапазона 100.0 %
CRC теста 03E664A5
CRC копии 03E664A5
Копирование… OK

Ошибок не произошло


AccurateRip: сводка

Трек 1 нет в базе данных
Трек 2 нет в базе данных
Трек 3 нет в базе данных
Трек 4 нет в базе данных
Трек 5 нет в базе данных
Трек 6 нет в базе данных

Ни одного трека нет в базе AccurateRip

Конец отчёта
[CUETools log; Date: 13.06.2017 16:47:21; Version: 2.1.4]
[CTDB TOCID: 6zYlv5Vcs6CgEC7abTKCCMGU1hU-] found.
Track | CTDB Status
1 | (13/13) Accurately ripped
2 | (13/13) Accurately ripped
3 | (13/13) Accurately ripped
4 | (13/13) Accurately ripped
5 | (13/13) Accurately ripped
6 | (13/13) Accurately ripped
[AccurateRip ID: 0010f108-005c90fa-56114e06] found.
Track [ CRC | V2 ] Status
01 [3eeaf794|44be4756] (06+17/23) Accurately ripped
02 [7a6a08d3|8db09ef5] (06+17/23) Accurately ripped
03 [dbd92556|7e20c450] (06+17/23) Accurately ripped
04 [bb234957|194b7c40] (06+17/23) Accurately ripped
05 [4daef259|5683aeaf] (06+17/23) Accurately ripped
06 [bb7816d0|0665ee0c] (06+17/23) Accurately ripped

Track Peak [ CRC32 ] [W/O NULL] [ LOG ]
– 98,8 [03E664A5] [DEC674F2] CRC32
01 81,0 [940F01C2] [0C7240CE]
02 91,1 [22FFDD5D] [6FF66420]
03 96,7 [0B17E4F6] [898F4205]
04 78,9 [F5F99A02] [39CEC088]
05 98,8 [62EAB023] [CCE5885F]
06 98,8 [66520D64] [48F82BCF]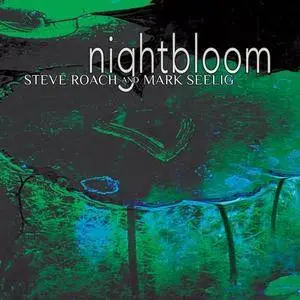 Steve Roach and Mark Seelig - Nightbloom (2010)
EAC Rip | FLAC (image+.cue+log) - 328 MB | MP3 CBR 320 kbps (LAME 3.93) - 173 MB | Covers - 12 MB
Genre: Ambient | RAR 3% Rec. | Label: Projekt (PROJEKT248)
Tracklist:
01. Part 1
02. Part 2
03. Part 3
04. Part 4
05. Part 5
Total time:
01:13:42
Exact Audio Copy V0.99 prebeta 5 from 4. May 2009

Отчёт EAC об извлечении, выполненном 9. ноября 2010, 20:40

Steve Roach and Mark Seelig / Nightbloom

Дисковод: ASUS DRW-22B2S Adapter: 3 ID: 0

Режим чтения : Достоверность
Использование точного потока : Да
Отключение кэша аудио : Да
Использование указателей C2 : Нет

Коррекция смещения при чтении : 6
Способность читать области Lead-in и Lead-out : Нет
Заполнение пропущенных сэмплов тишиной : Да
Удаление блоков с тишиной в начале и конце : Нет
При вычислениях CRC использовались нулевые сэмплы : Да
Интерфейс : Встроенный Win32-интерфейс для Win NT/2000

Выходной формат : Пользовательский кодировщик
Выбранный битрейт : 1024 kBit/s
Качество : Высокий
Добавление ID3-тэга : Нет
Утилита сжатия : C:\Program Files\Exact Audio Copy\FLAC\FLAC.EXE
Дополнительные параметры : -8 -V -T "ARTIST=%a" -T "TITLE=%t" -T "ALBUM=%g" -T "DATE=%y" -T "TRACKNUMBER=%n" -T "GENRE=%m" -T "COMMENT=%e" %s -o %d


TOC извлечённого CD

Трек | Старт | Длительность | Начальный сектор | Конечный сектор
––––––––––––––––––––––––––––––––––-
1 | 0:00.00 | 18:32.26 | 0 | 83425
2 | 18:32.26 | 12:39.20 | 83426 | 140370
3 | 31:11.46 | 13:55.67 | 140371 | 203062
4 | 45:07.38 | 12:32.49 | 203063 | 259511
5 | 57:40.12 | 16:02.19 | 259512 | 331680


Характеристики диапазона извлечения и сообщения об ошибках

Выбранный диапазон

Имя файла D:\NEW\Steve Roach and Mark Seelig - Nightbloom\Steve Roach and Mark Seelig - Nightbloom.wav

Пиковый уровень 98.8 %
Качество диапазона 99.9 %
CRC теста EFEC2C3F
CRC копии EFEC2C3F
Копирование… OK

Ошибок не произошло


AccurateRip: сводка

Трек 1 нет в базе данных
Трек 2 нет в базе данных
Трек 3 нет в базе данных
Трек 4 нет в базе данных
Трек 5 нет в базе данных

Ни одного трека нет в базе AccurateRip

Конец отчёта
[CUETools log; Date: 13.06.2017 16:48:09; Version: 2.1.4]
[CTDB TOCID: hNMrVP3u1aB_HDTpYGOQkDBpGLY-] found.
Track | CTDB Status
1 | (7/7) Accurately ripped
2 | (7/7) Accurately ripped
3 | (7/7) Accurately ripped
4 | (7/7) Accurately ripped
5 | (7/7) Accurately ripped
[AccurateRip ID: 000f88c5-004787f8-3d114605] found.
Track [ CRC | V2 ] Status
01 [b978b181|677d6c28] (04+10/14) Accurately ripped
02 [de270146|85acaded] (04+10/14) Accurately ripped
03 [ba76014b|94794d3b] (04+10/14) Accurately ripped
04 [1f951761|77da7746] (04+10/14) Accurately ripped
05 [90ce2c97|4f52cc66] (04+10/14) Accurately ripped

Track Peak [ CRC32 ] [W/O NULL] [ LOG ]
– 98,8 [EFEC2C3F] [92BDFF5F] CRC32
01 89,6 [4500A4FF] [AAB83362]
02 72,1 [DB37B480] [12D93EFC]
03 76,1 [F04C3B1F] [425D586C]
04 75,9 [0E5D6E8B] [A146FC20]
05 98,8 [76E70AFA] [4BCE8468]
Thanks to
Stripakulina, orbster, _ok, wrongguy, station10See also:
Steve Roach, Kevin Braheny, Richard Burmer - Western Spaces (1987)
Steve Roach & Vidna Obmana - Ascension Of Shadows (1999)
Steve Roach & Vidna Obmana - Spirit Dome - Live Archive (2009)
Byron Metcalf, Dashmesh Khalsa...e Roach - Dream Tracker (2010)