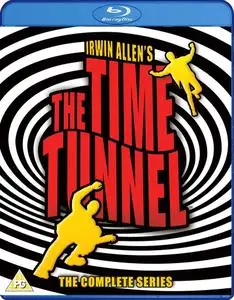 The Time Tunnel (1966-1967) [The Complete Series]
Blu-Ray x 7 | BDMV | AVC, 1920x1080, ~12.0 Mbps | 30 x ~ 0hr 51mn | 7 x ~ 35.0 GB
English: DTS-HD MA, 6 ch, 4149 Kbps \ LPCM Audio, 2 ch, 2304 Kbps | Subtitles: English
Genre: Action, Adventure, Sci-Fi, TV Series


Creator:
Irwin Allen
Star:
James Darren, Robert Colbert, Whit Bissell
Scientists Tony Newman and Doug Phillips are the young heads of Project Tic-Toc, a multi-billion dollar government installation buried beneath the desert. They have invented a Time Tunnel, which will allow people to visit anywhere in time and space. While testing the tunnel for an impatient senator, Newman and Phillips became trapped in time, and each week coincidentally found themselves at the site of an important historical event, be it the Siege of Troy, the sinking of the Titanic or an assassination attempt on President Lincoln. Sometimes they traveled into the future, and battled alien invaders. Ann MacGregor, Gen. Kirk and Dr. Swain are the scientists trying to fix the malfunctioning Time Tunnel and bring Doug and Tony back to the present (1968).
Episodes:
- Rendezvous with Yesterday
- One Way to the Moon
- End of the World
- The Day the Sky Fell In
- The Last Patrol
- Crack of Doom
- Revenge of the Gods
- Massacre
- Devil's Island
- Reign of Terror
- Secret Weapon
- The Death Trap
- The Alamo
- Night of the Long Knives
- Invasion
- The Revenge of Robin Hood
- Kill Two by Two
- Visitors from Beyond the Stars
- The Ghost of Nero
- The Walls of Jericho
- Idol of Death
- Billy the Kid
- Pirates of Deadman's Island
- Chase Through Time
- The Death Merchant
- Attack of the Barbarians
- Merlin the Magician
- The Kidnappers
- Raiders from Outer Space
- Town of Terror
Extras:
- Original Unaired Pilot Episode (HD Version) 2002
- Unaired TV Pilot Time Travelers
- TV Movie Cast Interviews
- Irwin Allen's Behind-The-Scenes Home Movies
- UK Edit (No Audio)
- Promotional TV & Radio Spots
- Visual Effects Camera Test (No Audio)
- Photo Galleries
Thanks to original uploader



If you like this release please visit my blog
In it you will find "TV Series", "Blu-Ray" and other releases