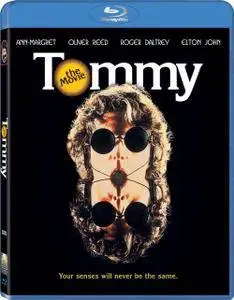 Tommy (1975)
BRRip 720p | MKV | 1280 x 694 | x264 @ 1975 Kbps | 1h 51mn | 1,89 Gb
Audio: English AC3 5.1 @ 448 Kbps | Subtitles: English (embedded)
Genre: Drama, Musical | Director: Ken Russell
Nora Walker is told that her British fighter pilot husband is missing in action and presumed killed in World War II. On V.E. Day, Nora gives birth to their son, who she names Tommy. While Tommy is an adolescent, Nora marries Frank, a shifty camp counselor. Shortly thereafter, Tommy suffers an emotionally traumatic experience associated with his father and step-father, which, based on things told to him at that time, results in him becoming deaf, dumb and blind, a situation which several people exploit for their own pleasure. As Nora tries several things to bring Tommy out of his psychosomatic disabilities, Tommy, now a young man, happens upon pinball as a stimulus. Playing by intuition, Tommy becomes a pinball master, which in turn makes him, and by association Nora and Frank, rich and famous. Nora literally shatters Tommy to his awakening, which ultimately leads to both the family's rise and downfall as people initially try to emulate Tommy's path then rebel against it.
IMDB
- Nominated for 2 Oscars
My older brother bought an LP The Who's "Tommy" in the 60's. I was very young but I liked it. It was a project ahead of its time. In the 70's I had a fantastic music teacher who played music soundtracks of several rock artists for my class, included was The Who's Tommy which I remembered immediately. Three years later, this movie came out directed by Ken Russell. I didn't get it at all. I loved the new soundtrack, still do. I loved the performances in the movie by Elton John and Tina Turner. But as a young teen, the movie I didn't get. Well, 20 years went by and on cable I saw Tommy again. This time, I got it. I understood what Ken Russell's vision was and for 1975 it was WAY ahead of its time. It is, in fact, a brilliant masterpiece of 20th Century pop culture: a brave, warped and cartoon mixture of sex, violence, war, religion and celebrity worship with the backdrop of one heck of a rock opera and story by The Who but focusing on the burning questions…what IS the central focus in our lives? Do we choose to look up to the right thing in our lives? And what do they look up to? Do they understand the power they have? Do we? Tommy is an experience in film, not for everyone. Its "out there" but a vision in its tale.
(Enlargeable)