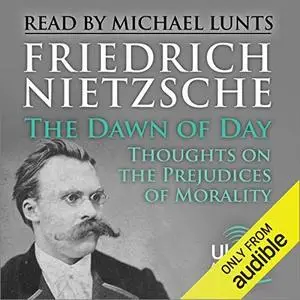 The Dawn of Day: Thoughts on the Prejudices of Morality [Audiobook] by Friedrich Nietzsche
English | December 14, 2019 | ASIN: B081VQSFJX | M4B@128 kbps | 11h 29m | 626 MB
Narrator: Michael Lunts
Friedrich Nietzsche (1844-1900) is one of the towering intellectual figures of the 19th century, a philologist, philosopher and poet of profound complexity and range whose writings in moral philosophy continue to resonate in the present day. The Dawn of Day (Morgenröte), first published in 1881, marked a clear shift in his thinking and prefigures many of the ideas that would be further developed in his later writings.
The clue is in the title, sometimes translated as Dawn or Morning, which suggests the beginning of a different awareness. One of Nietzsche's least studied works, The Dawn of Day consists of 575 passages ranging from a few lines to numerous pages in length, in which the philosopher considers and dissects the nature of reality and of conventional 19th-century European ethics and morality.
The great German thinker and classicist makes considerable use of aphorisms and frequently uses an ironic tone to criticise the nature of the morality suffusing the fabric of the society of his day. In John M Kennedy's excellent translation, Nietzsche ranges across the influences exerted on the mind of modern man referencing classical sources, the Bible, Christian thinkers and the writer's own contemporaries. The influence of Schopenhauer and an admiration for Kant are still apparent in his thinking, but Nietzsche clearly begins to develop his own world view, his own philosophy in this work. His burgeoning moral and cultural relativism in his critique of Christian thought is incisive and constant and the roots of the notions later developed into the ideas of 'the death of God' and 'the will to power' are clearly discernible.
The work is organised in four books containing Nietzsche's reflections on everything including politics, history, art, music, theatre, literature, psychology, religion, culture, crime and punishment, heroism, idealism and a plethora of other issues affecting the individual in society. It is an attempt at creating and describing a modern European perspective on existence while simultaneously exploring the nature of thinking and belief.
Nietzsche alternates between pondering, preaching, teasing and provoking the listener. For instance when considering education he remarks, '…nobody learns, nobody teaches, nobody wishes, to endure solitude'. Then, shortly afterwards, he states, 'Master and Pupil. By cautioning his pupils against himself the teacher shows his humanity.'
The Dawn of Day remains an abundant source of food for thought and is expertly presented by reader Michael Lunts for Ukemi Audiobooks.