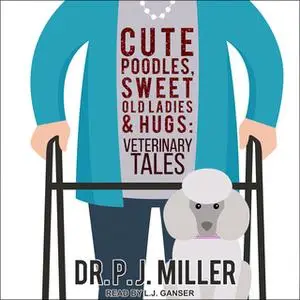 «Cute Poodles, Sweet Old Ladies, and Hugs: Veterinary Tales» by P.J. Miller
English | ISBN: 9781541407237 | MP3@64 kbps | 6h 20m | 174.1 MB
Dr. P. J. Miller's story is unique. Growing up in New York City, who would have thought that he'd complete his veterinary degree at the Royal School of Veterinary Studies in Edinburgh, Scotland? In Cute Poodles, Sweet Old Ladies & Hugs, Dr. Miller has assembled a "greatest hits" of veterinary tales-stories that include colorful clients, wisecracking hospital staff, and pets that aren't always friendly.
Cute Poodles, Sweet Old Ladies & Hugs provides a humorous look at what Dr. Miller went through to become a veterinarian and his daily life as a doctor, told only as a typical New Yorker could. Underneath the humor, Dr. Miller gives a glimpse of how strong and emotional the human-animal bond can be, becoming an instant must-listen for any aspiring veterinary professional or animal lover that wants to know what it is really like to be a veterinarian.