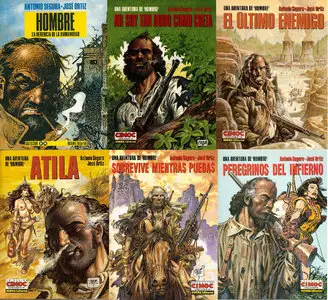 Hombre - 6 tomos
CBR/RAR | Spanish | 6 Vol. | 217 MB Total
Hombre is a Spanish comics series written by Antonio Segura and drawn by José Ortiz, first published in 1981 in the magazine Cimoc.
Synopsis: An old soldier in a post-apocalyptic world.
Collected editions:
• La herencia de la humanidad.
• No soy tan duro como creia.
• El Ultimo Enemigo.
• Atila.
• Sobrevive Mientras Puedas.
• Peregrinos del Infierno.