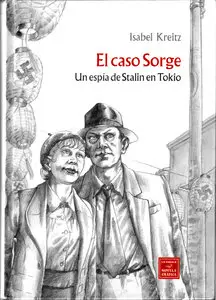 Isabel Kreitz - El Caso Sorge
Graphic Novel | Carlsen Comics, 2008 | CBR | B/W | Spanish | 88.8 MB | 257 pages
"On June 20 Hitler attack the Soviet Union by surprise? I will refrain! Today I will make history! I, Richard Sorge, conquer Hitler!" Almost no spy of the twentieth century has been so surrounded by legend and journalist Richard Sorge, Stalin's agent at the German Embassy in Tokyo. In 1941 he predicted almost the exact day the German army to attack the Soviet Union but were ignored his warnings.
Isabel Kreitz reviews the last months of the career of Richard Sorge telling them solidly in this fascinating graphic novel away from all the stereotypes about spies. Months that run between victory and defeat, in which the idealist Sorge changed the course of history. Months between self-pity and megalomania, in which long years of self-destructive double life bear fruit.