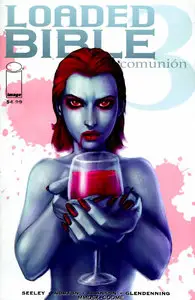 Loaded Bible #1-3
Image, 2006-2008 | CBR/RAR | Spanish | 3 Issues | 121 MB Total
The story is about an apocalyptic future where Jesus Christ must save America from vampires after a nuclear war.
Loaded Bible
is a series of one-shot comic books written by Tim Seeley, with art by Nate Bellegarde, the first of which, Jesus vs. Vampiros (Jesus vs. Vampires), was published in February 2006 by Image Comics. A follow-up was released May 2007 called Loaded Bible 2: Sangre de Cristo (Blood of Christ) and it takes place right after the first one. Loaded Bible 3: Comunión (Communion) was released February 2008 and is the conclusion to the first part of the series.