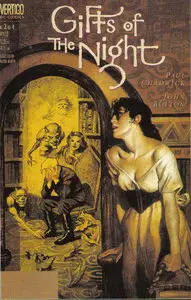 Los Dones De La Noche #1-4
Vertigo, 1999 | CBR/RAR | Spanish | 4 Issues | 165 MB Total
writer: Paul Chadwick; penciler, inker, colorist, cover: John Bolton
The story is set at some undetermined period in the middle ages. The story's protagonist is Reyes, an aspiring scholar who works as a tutor and care-taker to the king's son Magdin. The story establishes Magdin as a rather weak child who is somewhat disregarded by all, including his own father, as having no future for himself. Reyes alone seems to have any love for the boy who hopes to shape into a strong-willed man. Every night before he sleeps, Magdin is told a story from some period in history by Reyes, hoping to instruct the child into becoming a wise and benevolent ruler by learning from the mistakes of the past.