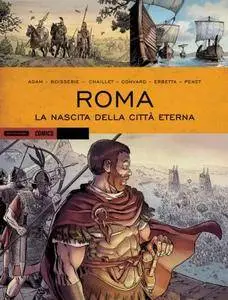 Historica 38 - Roma – La nascita della città eterna (2015)
Italian | CBR + PDF | 134 pages | 281 MB
La nascita di Roma, caput mundi, sospesa tra storia, miti e leggende.. 1250 a.C., nella città di Troia assediata dagli eserciti greci, il grande sacerdote Aquilon e il generale Leonidas condividono un terribile segreto che riguarda l'origine del Palladio, un simulacro della dea Atena. Senza la sua protezione, la loro orgogliosa città è destinata a cadere e quando ciò avviene il fuggitivo Enea porta con sé il Palladio attraverso il mare, fino alla terra dove la sua stirpe fonderà una città, a volte protetta altre maledetta dagli dei: Roma! Dopo mille anni, Roma è ormai una delle potenze del Mediterraneo e solo Cartagine si contrappone alla sua egemonia. Nel 217 a.C., il generale Annibale guida il suo esercito fino in Italia, dove sconfigge a più riprese le legioni romane. Toccherà ancora una volta affidarsi al potere del terribile simulacro per respingere l'Africano e far sì che la Città Eterna non venga espugnata!
Per scaricare Altri LIBRI in ITALIANO CLICCA QUI
>>> Visit My Blog Here <<<
If you like this release please support Developer / Publisher and BUY it.
If you'll find that my links are dead please let me know through the Private Messages.
Please DO NOT MIRROR