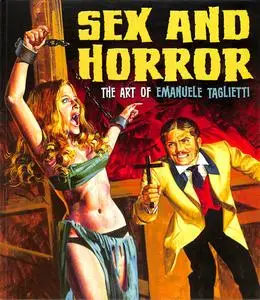 Sex and Horror - The Art of Emanuele Taglietti
Korero Press, 2015 | English | CBR | 163 Pags | 207 MB
A long overdue look at the famed fumetti work of Emanuele Taglietti, a legendary comic book cover artist known for his outrageous artwork.
In the course of his acclaimed career in the 1970s and 1980s, Emanuele Taglietti painted more than 500 covers for such books as Zora the Vampire, Sukia, Mafia, and 44 Magnum. Taglietti was one of most outstanding artists of the golden age of Italian comics, and crime and horror were his specialties. His iconic work, overflowing with violence and eroticism, is unforgettable. This highly visual biography displays dozens of his amazing full-color paintings, explores his fascinating life and career, and takes a look behind the scenes at his exacting technique. A must-have for comic book fans, artists, and popular culture aficionados alike, the book features never-before-seen photos and art. A unique collection of retrospective of the work of one of the greats of the golden age of Italian comics, this book will appeal to pulp art, comic, and illustration fans.