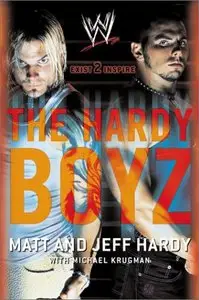 The Hardy Boyz: Exist 2 Inspire
Publisher: It Books | ISBN: 0060521546 | edition 2003 | PDF | 288 pages | 235 MB
Matt and Jeff Hardy have proven that a relentless drive for success can make your wildest dreams come true. While still in high school, Matt and Jeff decided to become professional wrestlers at any cost. In a business that usually prizes giants, they were told their aspirations were unreasonable and impossible. But after the tragic loss of their mother, they began to pursue their goals with unstoppable determination.
The Hardy Boyz: Exist 2 Inspire tells the story of Matt and Jeff Hardy's journey to WWE superstardom. Whether taking beatings from Razor Ramon and Nikolai Volkoff during their first WWE matches or winning the WWE Tag Team Championships against the Acolytes, the Hardy Boyz have experienced all the pains and pleasures that sports-entertainment has to offer. Their fast-moving, high-flying ring style has raised the bar for anyone who aims to follow in their footsteps.