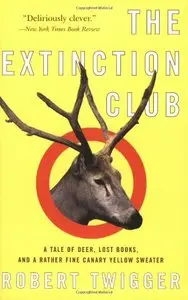 The Extinction Club: A Tale of Deer, Lost Books, and a Rather Fine Canary Yellow Sweater By Robert Twigger
Publisher: Har..per Peren..nial 2003 | 240 Pages | ISBN: 0060535962 | EPUB + PDF | 3 MB + 3 MB
Robert Twigger isn't your typical nature writer, focusing intently on the life habits of an endangered and misunderstood species. In The Extinction Club he rambles and reflects his way all around his ostensible topic--the nearly extinct Pere David's deer. In fact, he spends the first fifty or so pages telling readers why he wrote the book, and musing on everything from libraries to his grandfather. It's a slow start for readers curious about the deer, but once Twigger begins divulging details about how the species, native to China, has survived in Bedfordshire, England, you'll be hooked. Twigger has a hipster's sense of irony and a postmodern storyteller's keen sense of the absurd, allowing him to avoid a lot of nature-writing clichés. Critics have accused him of being self-referential, and he does spend too much time in The Extinction Club describing meetings with publishers, his time at a survival camp, and his life in Oxford. But the book works in the end, both as a history of a little-known chapter of wildlife biology and as a meditation on nature and truth.
!!!No Mirrors below, please! Follow Rules!