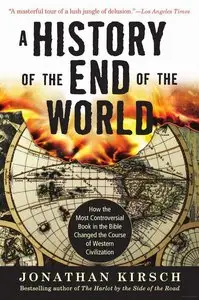 Jonathan Kirsch, "A History of the End of the World: How the Most Controversial Book in the Bible Changed the Course of Western Civilization"
Publisher: HarperOne | ISBN: 0061349879 | 2007 | EPUB/PDF | 352 pages | 447 KB/2 MB
The mysterious author of the Book of Revelation (or the Apocalypse, as the last book of the New Testament is also known) never considered that his sermon on the impending end times would last beyond his own life. In fact, he predicted that the destruction of the earth would be witnessed by his contemporaries. Yet Revelation not only outlived its creator; this vivid and violent revenge fantasy has played a significant role in the march of Western civilization.
Ever since Revelation was first preached as the revealed word of Jesus Christ, it has haunted and inspired hearers and readers alike. The mark of the beast, the Antichrist, 666, the Whore of Babylon, Armageddon, and the Four Horsemen of the Apocalypse are just a few of the images, phrases, and codes that have burned their way into the fabric of our culture. The questions raised go straight to the heart of the human fear of death and obsession with the afterlife. Will we, individually or collectively, ride off to glory, or will we drown in hellfire for all eternity? As those who best manipulate this dark vision learned, which side we fall on is often a matter of life or death. Honed into a weapon in the ongoing culture wars between states, religions, and citizenry, Revelation has significantly altered the course of history.
Kirsch, whom the Washington Post calls "a fine storyteller with a flair for rendering ancient tales relevant and appealing to modern audiences," delivers a far-ranging, entertaining, and shocking history of this scandalous book, which was nearly cut from the New Testament. From the fall of the Roman Empire to the Black Death, the Inquisition to the Protestant Reformation, the New World to the rise of the Religious Right, this chronicle of the use and abuse of the Book of Revelation tells the tale of the unfolding of history and the hopes, fears, dreams, and nightmares of all humanity.