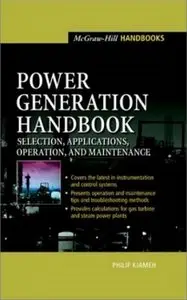 Philip Kiameh, "Power Generation Handbook: Selection, Applications, Operation, Maintenance"
English | 2002 | ISBN: 0071396047 | 560 pages | PDF | 6,4 MB
Written by hands-on industry expert, Power Generation Handbook provides the reader with a full understanding of all the components, calculations, and subsystems of the various types of gas turbines, steam power, co-generation, and combined cycle plants.
The author also thoroughly examines other essential topics such as emission limits, monitoring, governing systems, as well as the economics of power generation.
All major component of power generation systems such as compressors, gas and steam turbines, heat recovery steam generators, condensers, lubricating systems, transformers, and generators are discussed in full detail. You'll also find:
* Coverage of the latest in instrumentation and control systems for power generating equipment
* Operation, maintenance, and troubleshooting methods
* Tips on monitoring, controlling, and reducing emissions from power plants
* Calculations for gas turbine, steam power plant, co-generation, and combined cycles
Power Generation Handbook is truly a blueprint to maximizing the efficiency, reliability, and longevity of any power generating plant.