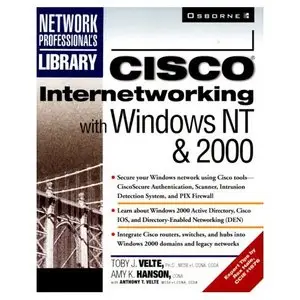 Cisco Internetworking with Windows NT & 2000
Publisher: Osborne Publishing | ISBN: 0072120835 | edition 2000 | PDF | 459 pages | 15,9 mb
Guide to using Cisco hardware and software in a Microsoft environment With the announced Cisco/Microsoft partnership, just about all NT administrators will need a working knowledge of Cisco products and technologies. You'll find that know-how in Cisco Internetworking with Windows NT & 2000, by Anthony Velte, Toby Velte, and Amy Hanson. After an introduction to Windows 2000, Active Directory, and Cisco's Directory Enabled Network Initiative, you get clear direction for: *Building a Cisco Network with Windows 2000, step-by-step directions for configuring each of Cisco's major hardware devices: routers, switches, and hubs *Managing a Cisco/Windows Networks, how to work with Windows- based Microsoft and Cisco tools to configure and manage a network *Intranet/Extranet Strategies, a probing look at more advanced topics Valuable appendices put at your fingertips a router configuration flow chart…a protocol map for the TCP/IP suite…a reference for certification tracks…and helpful Cisco and Microsoft resources you can tap.

Depositfiles
Mirror
Mirror
>>NO PASSWORD<<
>>NO MIRRORS<<
-<My Blog>-