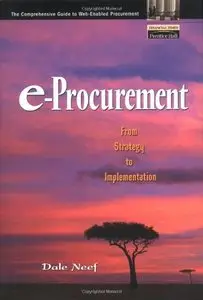 Dale Neef, "e-Procurement: From Strategy to Implementation"
F.T Press | 2001 | ISBN: 0130914118 | 207 pages | PDF | 2,7 MB
e-Procurement is hot. And no wonder: companies are reporting that e-Procurement systems are saving them millions of dollars annually – in some cases, billions. GE's Jack Welch claims that GE will save $10 billion dollars from e-procurement. Cisco Systems's John Chambers says it is Cisco's #1 priority. Now, there's a start-to-finish guide to implementing e-Procurement in any enterprise. Dale Neef covers it all – from making the business case to architecting the solution, managing the risks to reaping the benefits. Neef begins with an up-to-the-minute overview of the promise of B2B e-procurement in supporting globalized, extended enterprises. He reviews the options for deploying e-Procurement, including internal solutions and e-Hubs; then identifies key issues associated with e-procurement in the enterprise. Learn how to make the business case for (or against) e-Procurement, and how to architect the optimal solution. You'll find detailed coverage of today's leading e-procurement technologies, including XML; and today's leading approaches, from ERP-based solutions to enterprise application integration. Neef covers the entire lifecycle of the e-Procurement initiative, identifying key pitfalls and areas of risk – and proven solutions.
Download