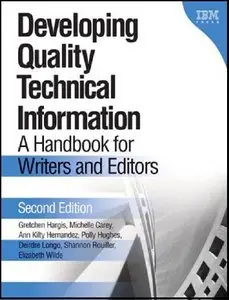 Developing Quality Technical Information: A Handbook for Writers and Editors
Publisher: IBM Press | ISBN: 0131477498 | edition 2004 | PDF | 520 pages | 4,7 mb
The book presents a much needed approach to quality technical communication and a working plan for achieving quality. The examples are excellent and are easy to use and adapt. The editorial advice is simple and clear enough for tech writers who did not major in English or journalism. It is most worthy of a text in university programs, but it is more valuable to experienced writers, editors and managers concerned with raising the quality of their publications.