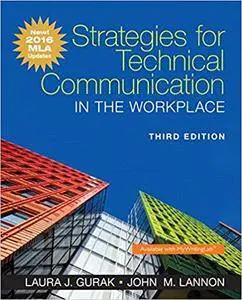 Professor Laura J Gurak and John M Lannon, "Strategies for Technical Communication in the Workplace, MLA Update Edition"
English | ISBN: 0134586379, 0321995899 | 2016 | 496 pages | PDF | 51 MB
oVERVIEW
In today's workplace, professionals in all fields are expected to adapt to a variety of communication situations. Virtually everyone must be able to write routine workplace documents such as memos, emails, letters, and informal reports. In addition, employees must create more complex forms of communication such as formal reports and proposals, instructions, definitions and descriptions, Web pages, oral presentations, video presentations, and more. All the while, these professionals
must also negotiate technological innovations, communicate in a global marketplace, work in teams, write persuasively, research effectively, and understand the ethical implications of the documents they produce.
We wrote Strategies for Technical Communication in the Workplace as a medium-length textbook that covers all the preceding topics thoroughly and concisely. Like the first two editions, this third edition text draws on the strengths
of our other two technical communication books: the best-selling Technical Communication, 13th edition, and Concise Guide to Technical Communication, 3rd edition. We hope that students and faculty alike will appreciate the new edition of this distinctive textbook.