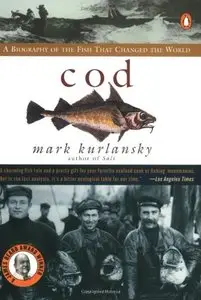 Cod: A Biography of the Fish that Changed the World By Mark Kurlansky
Publisher: Pe..ng..uin 1998 | 294 Pages | ISBN: 0140275010 | EPUB + PDF | 2 MB + 4 MB
You probably enjoy eating codfish, but reading about them? Mark Kurlansky has written a fabulous book--well worth your time--about a fish that probably has mattered more in human history than any other. The cod helped inspire the discovery and exploration of North America. It had a profound impact upon the economic development of New England and eastern Canada from the earliest times. Today, however, overfishing is a constant threat. Kurlansky sprinkles his well-written and occasionally humorous history with interesting asides on the possible origin of the word codpiece and dozens of fish recipes. Sometimes a book on an offbeat or neglected subject really makes the grade. This is one of them.
!!!No Mirrors below, please! Follow Rules!