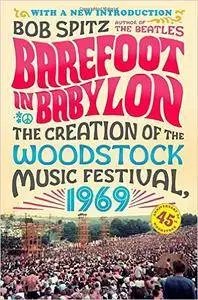 Bob Spitz, "Barefoot in Babylon: The Creation of the Woodstock Music Festival"
ISBN: 0142180874 | 2014 | EPUB | 481 pages | 2.42 MB
"Mr. Spitz feeds us every riveting detail of the chaos that underscored the festival. It makes for some out-a-sight reading, man." The New York Times Book Review
Celebrating its 45th anniversary in 2014, the Woodstock Music Festival defined a generation. Yet, there was much more than peace and love driving that long weekend the summer of 1969. In Barefoot in Babylon, journalist and New York Times bestselling author Bob Spitz gives readers a behind-the-scenes look at the making of Woodstock, from its inception and the incredible musicians that performed to its scandals and the darker side of the peace movement. With a new introduction, as well as maps, set lists, and a breakdown of all the personalities involved, Barefoot in Babylon is a must-read for anyone who was there—or wishes they were.
Many Thanks to Original uploader.
For More Rare Movies
Check out my blog!
Download Links :
No Mirrors Please