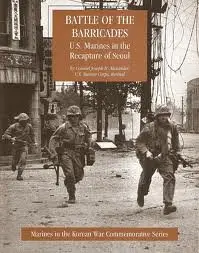 Joseph H. Alexander, "Battle of the Barricades: U.S. Marines in the Recapture of Seoul"
Marine Corps | ISBN: 0160504538 | 2000 | PDF | 68 pages | 4,04 mb
Marines in the Korean War Commemorative Series.
Chronicles the part played by United States Marines in the retaking of Seoul, the capital of the Republic of South Korea, during the Korean War.
Note 1
: If you can not open the downloaded file, and your Adobe Reader reports on the damaged file, then
update
your Adobe Reader. Lastest version of Adobe Reader opens this book perfectly.
Note 2
: Links not work? Send me
PM
and I'll try to help you.