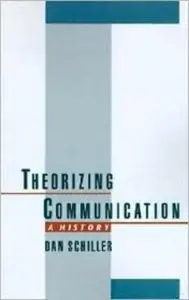 Dan Schiller, "Theorizing Communication: A History"
O…rd U/ty Press | ISBN: 0195101995 | 1996 | PDF | 296 pages | 18,7 mb
This book offers the first detailed intellectual history of communication study, from its beginnings in late nineteenth-century critiques of corporate capitalism and the burgeoning American wireline communications industry, to contemporary information theory and poststructuralist accounts of communicative activity. Schiller identifies a problematic split between manual and intellectual labor that outlasts each of the field's major conceptual departures, and from this vital perspective builds a rigorous critical survey of work aiming to understand the nexus of media, ideology, and information in a society. Looking closely at the thought of John Dewey, C. Wright Mills, Raymond Williams, Stuart Hall, Daniel Bell, and others, Schiller carefully maps the transformation of ideas about communication and culture as issues of corporate power, mass persuasion, cultural imperialism, and information expansion succeed one another in prominence. Bringing his analysis of communication theory into the present, Schiller concludes by limning a unitary model of society's cultural/informational production, one that broadens the concept of "labor" to include all forms of human self-activity. Powerful, challenging, and original, Theorizing Communication: A History offers a brilliantly constructed overview of the history of communication study, and will interest scholars working in the field as well as those working in critical theory, cultural studies, and twentieth-century intellectual history.
Note 1
: If you can not open the downloaded file, and your Adobe Reader reports on the damaged file, then
update
your Adobe Reader. Lastest version of Adobe Reader opens this book perfectly.
Note 2
: Links not work? Send me
PM
and I'll try to help you.