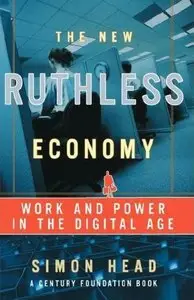 Simon Head, "The New Ruthless Economy"
O***rd U/ty Press | ISBN: 0195179838 | 2005 | PDF | 242 pages | 11,47 mb
In the great boom of the 1990s, top management's compensation soared, but the wages of most Americans barely grew at all. This wages stagnation has baffled experts, but in The New Ruthless Economy, Simon Head points to information technology as the prime cause of this growing wage disparity.
Many economists, technologists and business consultants have predicted that IT would liberate the work force, bringing self-managed work teams and decentralized decision making. Head argues that the opposite has happened. Reengineering, a prime example of how business processes have been computerized, has instead simplified the work of middle and lower level employees, fenced them in with elaborate rules, and set up digital monitoring to make sure that the rules are obeyed. This is true even in such high-skill professions as medicine, where decision-making software in the hands of HMOs decides the length of a patient's stay in hospital and determines the treatments patients will or will not receive.
In lower-skill jobs, such as in the call center industry, workers are subject to the indignity of scripting software that lays out the exact conversation, line by line, which agents must follow when speaking with customers. Head argues that these computer systems devalue a worker's experience and skill, and subject employees to a degree of supervision which is excessive and demeaning.
Note 1
: If you can not open the downloaded file, and your Adobe Reader reports on the damaged file, then
update
your Adobe Reader. Lastest version of Adobe Reader opens this book perfectly.
Note 2
: Links not work? Send me
PM
and I'll try to help you.