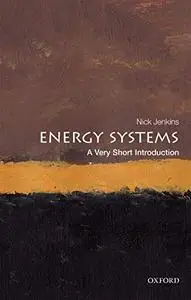 Energy Systems: A Very Short Introduction (Very Short Introductions) by Nick Jenkins
English | February 1, 2020 | ISBN: 0198813929 | EPUB | 160 pages | 1.2 MB
Modern societies require energy systems to provide energy for cooking, heating, transport, and materials processing, as well as for electricity generation. Energy systems include the primary fuel, its conversion, and transport to the point of use. In many cases this primary fuel is still a fossil fuel, a one-use resource derived from a finite supply within our planet, causing considerable damage to the environment. After 300 years of increasing reliance on fossil fuels, particularly coal, it is becoming ever clearer that the present energy systems need to change.
In this Very Short Introduction Nick Jenkins explores our historic investment in the exploitation of fossil energy resources and their current importance, and discusses the implications of our increasing rate of energy use. He considers the widespread acceptance by scientists and policy makers that our energy systems must reduce emissions of CO2 and other greenhouse gases, and looks forward to the radical changes in fuel technology that will be necessary to continue to provide energy supplies in a sustainable manner, and extend access across the developing world. Considering the impact of changing to an environmentally benign and low-carbon energy system, Jenkins also looks at future low-carbon energy systems which would use electricity from a variety of renewable energy sources, as well as the role of nuclear power in our energy use.