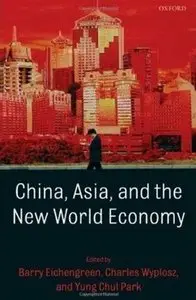 Barry Eichengreen, Yung Chul Park, Charles Wyplosz, "China, Asia, and the New World Economy"
O/rd U-ty Press | ISBN: 0199235880 | 2008 | PDF | 428 pages | 2,1 mb
The rise of Asia, and China specifically, is the single most important force reshaping the world economy at the beginning of the 21st century. From a low of 20 per cent in 1950, Asia's share of global GDP has now risen to 33 per cent and will exceed 40 per cent within a generation if current forecasts are realized. Asia's growing weight in the world economy is elevating it to a central position in global economic and financial affairs. The potential global impact of this astonishing growth is far reaching, from oil markets and the environment to a reshaping of trade relations in the current multilateral system dominated by the WTO.
This collection of original essays written by leading economists explores the likely impact of the rapid growth in the East Asian economies, and in particular China, on the world economy in the coming decades and the consequent challenges for the development of trade, macroeconomic, and environmental policy.
Note 1
: If you can not open the downloaded file, and your Adobe Reader reports on the damaged file, then
update
your Adobe Reader. Lastest version of Adobe Reader opens this book perfectly.
Note 2
: Links not work? Send me
PM
and I'll try to help you.