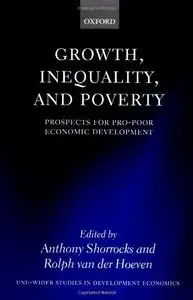 Anthony Shorrocks, Rolph van der Hoeven, "Growth, Inequality, and Poverty"
O,..rd U-ty Press | ISBN: 0199268657 | 2004 | PDF | 300 pages | __размер__ mb
The relationship between growth, inequality, and poverty lies at the heart of development economics. This volume draws together many of the most important recent contributions to the controversies surrounding this topic.
Note 1
: If you can not open the downloaded file, and your Adobe Reader reports on the damaged file, then
update
your Adobe Reader. Lastest version of Adobe Reader opens this book perfectly.
Note 2
: Links not work? Send me
PM
and I'll try to help you.