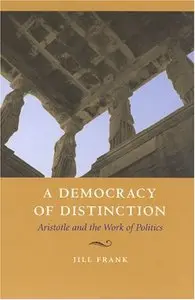 Jill Frank, "A Democracy of Distinction: Aristotle and the Work of Politics"
English | ISBN: 0226260194, 0226260186 | 2005 | 208 pages | PDF | 3 MB
Offering an ancient education for our times, Jill Frank's A Democracy of Distinction interprets Aristotle's writings in a way that reimagines the foundations, aims, and practices of politics, ancient and modern. Concerned especially with the work of making a democracy of distinction, Frank shows that such a democracy requires freedom and equality achieved through the exercise of virtue.
Moving back and forth between Aristotle's writings and contemporary legal and political theory, Frank breathes new life into our conceptions of property, justice, and law by viewing them not only as institutions but as dynamic activities as well. Frank's innovative approach to Aristotle stresses his appreciation of the tensions and complexities of politics so that we might rethink and reorganize our own political ideas and practices. A Democracy of Distinction will be of enormous value to classicists, political scientists, and anyone interested in revitalizing democratic theory and practice.