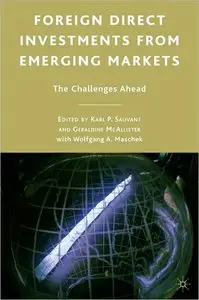 Foreign Direct Investments from Emerging Markets: The Challenges Ahead by Karl P. Sauvant
English | 2010 | ISBN: 023010021X | 492 pages | PDF | 5,5 MB
Foreign direct investment from emerging markets is an increasingly important phenomenon; firms from developed countries alone no longer undertake this activity. Foreign Direct Investment from Emerging Markets provides the latest scholarship on this subject from eminent contributors from around the world.
This volume demonstrates the importance of rigorous analysis to understand the dilemmas, the controversies, the disputes, and the policy issues that need to be considered in connection with this new phenomenon. In the wake of the financial crisis, it is more critical than ever for those involved in FDI research and policy to understand these issues.