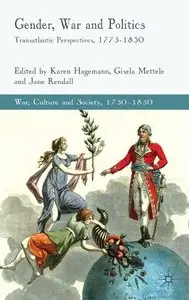 Karen Hagemann, "Gender, War and Politics: Transatlantic Perspectives, 1775-1830 (War, Culture and Society, 1750-1850)"
ISBN: 0230218008 | 2012 | PDF | 416 pages | 3.2 MB
In the period between 1775 and 1830 the transatlantic world experienced more or less constant war, touching not only every European country but also North and South America and the Caribbean Islands. The Wars of Revolution and Liberation, inspired by revolutionary or national ideologies, were increasingly fought by conscripted troops and militias alongside professional armies. The conduct of warfare was transformed, as mass armies were deployed by both revolutionary and conservative regimes, deeply affecting the political, social and gender order of the societies involved. Not only soldiers but also civilians—men and women alike—had to be mobilized on an unprecedented scale. This volume addresses the relationship between these wars, developing political and national identities and the changing gender regimes of Europe and the Americas. Looking at both free and slave societies, it explores military and civilian experiences of war and revolution, which shaped as well as reflected gender concepts and practices, in relation to class, ethnicity, race and religion.
No Mirrors Please!!!

Please inform me if link is dead!