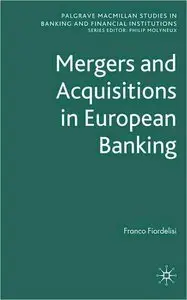 Franco Fiordelisi "Mergers and Acquisitions in European Banking (Palgrave Macmillan Studies in Banking and Financial Institutions)"
Palgrave Macmillan | English | 2009-12-08 | ISBN: 0230537197 | 240 pages | PDF | 1 MB
This book provides a detailed analytical assessment of merger and acquisition phenomenon in banking. It advances the prior literature focusing on some specific aspects that have been investigated by only limited previous analysis. It assesses the effect produced by M&A transactions on bank efficiency and shareholder value.
To start download click HERE: