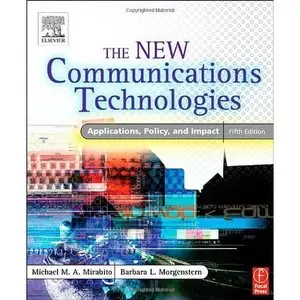 The New Communications Technologies
Publisher: Focal Press | ISBN: 0240805860 | edition 2004 | PDF | 349 pages | 15,4 mb
As new communications applications are developed and brought to market, it is vital for communications professionals to keep abreast of these issues. Since the technologies and applications also affect our daily lives, it is important to understand how they will shape the country and, by extension, the world at large. International censorship, the impact of the Internet and wireless tools, and th legisation following the World Trade Center bombing all fall into this category.
The New Communications Technologies, Fifth Edition, provides vital information on the new and emerging technologies that will shape the way communicators do business. The book explores the new communications technologies and covers topics ranging from multimedia and production to satellites to digital communication. Just as important, the book examines the social, economic, and political impact brought about by the adoption of such technologies and applications; this fallout includes privacy concerns, First Amendment issues, and the implications raised by biometric systems.

Depositfiles
Mirror
Mirror
>>NO PASSWORD<<
>>NO MIRRORS<<
-<My Blog>-