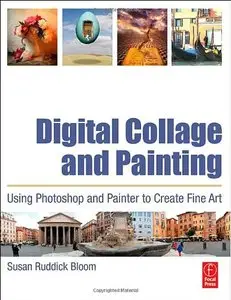 Digital Collage and Painting: Using Photoshop and Painter to Create Fine Art By Susan Ruddick Bloom
Publisher: Fo..cal Pre..ss 2006 | 608 Pages | ISBN: 0240807057 | PDF | 51 MB
"This is not a book for beginning Photoshop and Painter users; it does not give exact instruction on how to operate either program. This makes it perfect for those who are familiar with either program and want to strengthen their skills as digital artists. Inspiration can be obtained not only from rhe author's own images but the third chapter which showcases twenty-one digital artists...Bloom has made projects, with files available for download on a website, for those who want some practice with the information gained from this book." - Apogee Photo Magazine, August 2006 The digital "alternative technique" book to help photographers take their imagery to the next level. Accompanied by a cool website.
!!!No Mirrors below, please! Follow Rules!