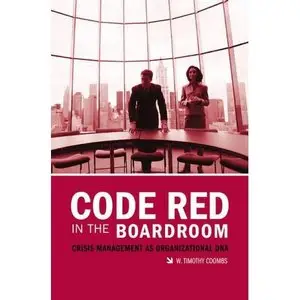 Code Red in the Boardroom: Crisis Management as Organizational DNA
Publisher: Praeger Publishers | ISBN: 0275989127 | edition 2006 | PDF | 152 pages | 14,1 mb
Even several years after the terrorist attacks of September 11, 2001, many organizations delude themselves about crisis management. Some enterprises, especially smaller ones, still believe that a crisis cannot happen to them. Others have gone through the steps of creating a crisis management plan, but really pay no more than lip service to the program, and may, in fact, be creating a false sense of security that leaves the company even more vulnerable to attack, accident, crime, or other sources of crisis. Tim Coombs argues that crisis management should not just be something you do when a crisis hits.