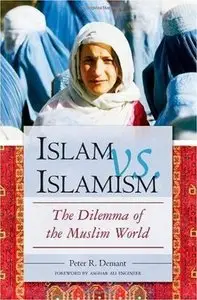 Peter R. Demant, "Islam vs. Islamism: The Dilemma of the Muslim World"
P-ger | ISBN: 0275990788 | 2006 | PDF | 313 pages | 3,57 mb
Islam vs. Islamism introduces the Islamic world's diversity, conflicts, and dilemmas—its origins, extraordinary creativity, and current crisis, the result of its unhappy encounter with Western modernity. Particular attention is given to Islamism, Islam's radically antimodern and often violent revision that is causing turmoil in the Middle East and beyond.
Islam vs. Islamism introduces the reader to the Islamic world, to its diversity and conflicts, and to possible solutions to those conflicts. Steering clear of either Islamophilia or Muslim-bashing, yet avoiding blandness, Demant explains the origins of Islam, its history, and its position in today's world. After a period of extraordinary expansion and creativity, and a long sequel of decline, the Islamic world is now in deep crisis, caused by Islam's unhappy encounter with the West and its modernity. Islamic societies have tried a variety of approaches to escape from their predicament, but the result has only been to deepen Muslim powerlessness and Muslims' feelings of frustration.
Then came Islamism (Islamic fundamentalism) with its revolutionary but antimodern proposal to refashion Muslim society after the Prophet's original model. Islamism has had unsettling results, first in Islam's heartlands, then along its multiple frontiers, and finally in confrontation with the West itself.
Note 1
: If you can not open the downloaded file, and your Adobe Reader reports on the damaged file, then
update
your Adobe Reader. Lastest version of Adobe Reader opens this book perfectly.
Note 2
: Links not work? Send me
PM
and I'll try to help you.