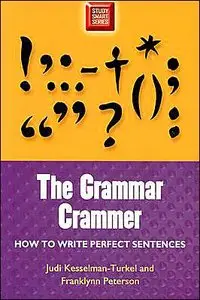 Judi Kesselman-Turkel "Grammar Crammer: How To Write A Perfect Sentence (Study Smart Series)"
University of Wisconsin Press | English | 2003-11-15 | ISBN: 0299191346 | 136 pages | PDF | 3,7 MB
This STUDY SMART reference guide series, designed for students from junior high school through lifelong learning programs, teaches skills for research and note-taking, presents strategies for test-taking and studying, provides exercises to improve spelling, grammar, and vocabulary, and reveals secrets for putting these skills together in great essays. The Grammar Crammer is a concise, sensible grammar handbook that explains lucidly how to remember correct word forms and sentence structures. Useful as a reference tool for high school and beyond, it packs an entire grammar encyclopedia into just over a hundred pages. This is a cram course on grammar that can be read-and understood-in just a few hours. It discusses lucidly-even pleasurably-nouns, pronouns, verbs, modifiers, conjunctions and prepositions, punctuation, and sentences-including eight clues that ensure sentences will work properly.
Checkup quizzes follow each section; answers are given at the end of the book.
To start download click HERE: