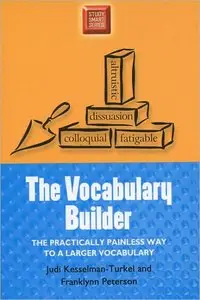 Judi Kesselman-Turkel, Franklynn Peterson "The Vocabulary Builder: The Practically Painless Way to a Larger Vocabulary (Study Smart Series)"
University of Wisconsin Press | English | 2004-03-15 | ISBN: 0299192040 | 168 pages | PDF | 5,3 MB
THE STUDY SMART SERIES, designed for students from junior high school through lifelong learning programs, teaches skills for research and note-taking, provides exercises to improve grammar, and reveals secrets for putting these skills together in great essays.
The Vocabulary Builder offers entertaining crossword, fill-in-the-answer, multiple choice, and other word puzzles (with answers!) to help students learn a selection of 600 well-used but often misunderstood words.
Here, finally, is the no-sweat way to a larger vocabulary. Through matching games, fill-in-the-blank games, scrambled-word games, and more, you are introduced to 600 well-used but often misunderstood words taken directly from the popular press and found on all vocabulary skills exams. By meeting and reusing each word at least four times in the book's word games, its meaning is painlessly reinforced and retested. At the end of the book, a dictionary-style index of all the vocabulary words provides pronunciations and definitions.
To start download click HERE: