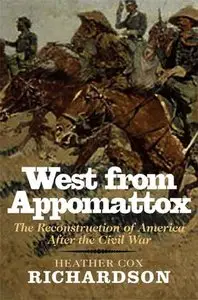 Heather Cox Richardson, "West from Appomattox: The Reconstruction of America after the Civil War"
ISBN: 0300110529, 0300136307 | 2007 | EPUB | 416 pages | 2 MB
The story of Reconstruction is not simply about the rebuilding of the South after the Civil War. Instead, the late nineteenth century defined modern America, as Southerners, Northerners, and Westerners gradually hammered out a national identity that united three regions into a country that could become a world power. Ultimately, the story of Reconstruction is about how a middle class formed in America and how its members defined what the nation would stand for, both at home and abroad, for the next century and beyond.
A sweeping history of the United States from the era of Abraham Lincoln to the presidency of Theodore Roosevelt, this engaging book stretches the boundaries of our understanding of Reconstruction. Historian Heather Cox Richardson ties the North and West into the post–Civil War story that usually focuses narrowly on the South, encompassing the significant people and events of this profoundly important era.
By weaving together the experiences of real individuals—from a plantation mistress, a Native American warrior, and a labor organizer to Andrew Carnegie, Julia Ward Howe, Booker T. Washington, and Sitting Bull—who lived during the decades following the Civil War and who left records in their own words, Richardson tells a story about the creation of modern America.