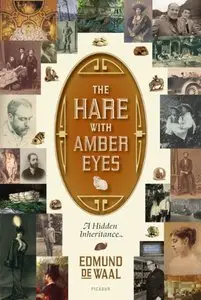 The Hare with Amber Eyes: A Hidden Inheritance By Edmund de Waal
Publisher: Cha..tto & Win..dus 2010 | 368 Pages | ISBN: 0312569378 | EPUB + PDF | 1 MB + 3 MB
At the heart of Edmund de Waal's strange and graceful family memoir, The Hare with Amber Eyes, is a one-of-a-kind inherited collection of ornamental Japanese carvings known as netsuke. The netsuke are tiny and tactile--they sit in the palm of your hand--and de Waal is drawn to them as "small, tough explosions of exactitude." He's also drawn to the story behind them, and for years he put aside his own work as a world-renowned potter and curator to uncover the rich and tragic family history of which the carvings are one of the few concrete legacies. De Waal's family was the Ephrussis, wealthy Jewish grain traders who branched out from Russia across the capitals of Europe before seeing their empire destroyed by the Nazis. Beginning with his art connoisseur ancestor Charles (a model for Proust's Swann), who acquired the netsuke during the European rage for Japonisme, de Waal traces the collection from Japan to Europe--where they were saved from the brutal bureaucracy of the Nazi Anschluss in the pockets of a family servant--and back to Japan and Europe again. Throughout, he writes with a tough, funny, and elegant attention to detail and personality that does full justice to the exactitude of the little carvings that first roused his curiosity.
!!!No Mirrors below, please! Follow Rules!