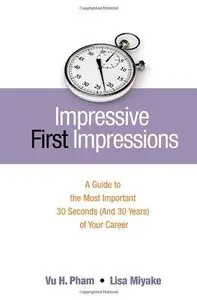 Vu H. Pham and Lisa Miyake, "Impressive First Impressions: A Guide to the Most Important 30 Seconds (And 30 Years) of Your Career"
Pra eger | 2010 | ISBN: 0313375941 | 224 pages | PDF | 1 MB
The door opens . . . a voice comes on the line…the webpage loads . . . the meeting comes to order…and the moment has arrived.Ê Time to make that initial impression that could mean the difference between getting the job, securing the contract, making an impact—or not. But how do you make the right first impression—and make it last?
Download