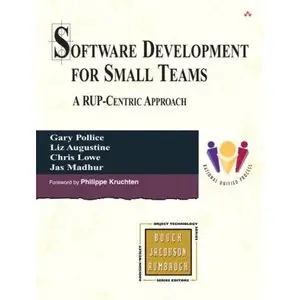 Software Development for Small Teams
Publisher: Addison-Wesley Professional | ISBN: 0321199502 | edition 2003 | CHM | 304 pages | 2 mb
The goal of developing software is to deliver something of value to customers. To work effectively, you need to strike the right balance of people, process, and tools. Everyone seems to have favorite tools, techniques, and processes. Software companies sell tools and methods to help you be more effective at building software. Consultants evangelize their methods to convince you that they know how to help your organization and project teams do a better job.

Mirror
Mirror
>>NO PASSWORD<<
>>NO MIRRORS<<
-<My Blog>-