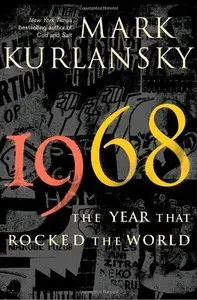 1968: The Year That Rocked the World By Mark Kurlansky
Publisher: Bal..lanti..ne Books 2003 | 464 Pages | ISBN: 0345455819 | EPUB + PDF | 1 MB + 3 MB
Given its broad and vibrant subject, it would be quite difficult for a writer of any proficiency to pen a boring book on 1968, and Mark Kurlansky has indeed pulled together an entertaining and enlightening popular history with 1968: The Year That Rocked the World. With the Vietnam War and Soviet repression providing sparkplugs in the East and West, student movements heated up in Berkeley, Prague, Mexico City, Paris, and dozens of other hotspots. With youth in ascendancy, music, film, and athletics became generational battlegrounds between opposition forces that couldn't be more appalled with one another. Not so fortuitously, the Summer Olympics in Mexico City and a presidential election in the United States conspired to elevate the tension higher as months passed. Kurlansky is skilled at concisely capturing the personalities behind the conflicts, whether they be heartbroken Czech leader Alexander Dubcek as Eastern Bloc troops violently suppress his nation's uprising or respected veteran newsman Walter Cronkite reluctantly editorializing against the war in Vietnam. The author is more than willing to choose heroes (the doomed Robert Kennedy) and villains (victorious presidential candidate Richard Nixon), and clearly sides with the rebels in most cases. In general, Kurlansky is more adept at covering the political front than he is the equally revolutionary arts world, and it's apparent that any chapter in this book could be expanded into a book of its own. One's expectation is that captivated readers will view 1968 as a portal into a deeper exploration of a fascinating time.
!!!No Mirrors below, please! Follow Rules!