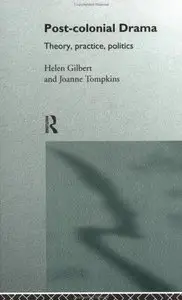 Helen Gilbert, Joanne Tompkins, "Post-Colonial Drama: Theory, Practice, Politics"
R-ge | ISBN: 0415090237 | 1996 | PDF | 355 pages | 2 mb
Post-Colonial Drama is the first full-length study to address the ways in which performance has been instrumental in resisting the continuing effects of imperialism. It brings to bear the latest theoretical approaches from post-colonial and performance studies to a range of plays from Australia, Africa, Canada, New Zealand, the Caribbean and other former colonial regions. Some of the major topics discussed in Post-Colonial Drama include:
* the interactions of post-colonial and performance theories
* the post-colonial re-stagings of language and history
* the specific enactments of ritual and carnival
* the theatrical citations of the post-colonial body
Post-Colonial Drama combines a rich intersection of theoretical approaches with close attention to a wide range of performance texts.
Note 1
: If you can not open the downloaded file, and your Adobe Reader reports on the damaged file, then
update
your Adobe Reader. Lastest version of Adobe Reader opens this book perfectly.
Note 2
: Links not work? Send me
PM
and I'll try to help you.