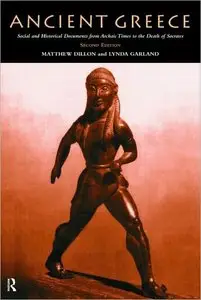 Matthew Dillon "Ancient Greece: Social & Historical Documents from Archaic Times to the Death of Socrates: Second Edition"
Routledge | 2000-01-26 | ISBN: 0415217555 | 496 pages | PDF | 3 MB
The new edition of this definitive collection presents a wide range of documents on Greek social and political history from 800 to 399 BC, from all over the Greek world.
It includes source material on political developments in Greece, including colonization in the Mediterranean and the Black Sea, Athenian democracy, the constitution of Sparta and the Peloponnesian War. Detailed chapters focus on social phenomena, such as Greek religion, slavery and labour, the family and the role of women.
The book contains clear, precise translations of documents taken not only from historical sources but also from inscriptions, graffiti, law codes, epitaphs, decrees, drama and poetry, many of which have not previously been translated into English.
Download FREE:
No Mirror(s) Please!