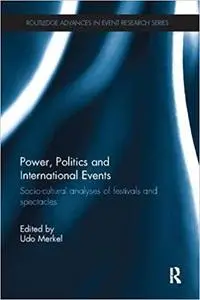 Udo Merkel, "Power, Politics and International Events.: Socio-cultural Analyses of Festivals and Spectacles"
English | ISBN: 0415624460, 1138081906 | 2017 | 208 pages | PDF | 1 MB
Although the event management field has grown considerably over the last decade, critical, social-scientific studies of the international events industry are rare. This book intends to help fill this void. It focuses on power, social and political relations, conflicts and controversies in the context of international events, popular festivals and famous spectacles. It draws on recent primary research and offers a diverse range of new and intriguing case studies, for example the Arirang Festival in North Korea, the Gay Games, the Gymnaestrada, horse-racing events, the London 2012 Olympics, regional and rural festivals, the World Baseball Classic, World Fairs/Expos and U2 concerts.
The main aim of this volume is to bring the critical, social-scientific analysis of events, festivals and spectacles more into the core of the teaching of events management degree programmes. The book draws extensively upon the disciplines of politics, sociology, cultural studies and history.
In the process, it addresses key themes such as:
• political economy
• politics of popular culture
• the global and the local
• regionalism and globalization
• nations and nationalism
• international relations and foreign policy.
This groundbreaking collection of essays is unique and innovative. It will be an essential source for students, researchers and academics with a keen interest in critical, social-scientific analyses of events.