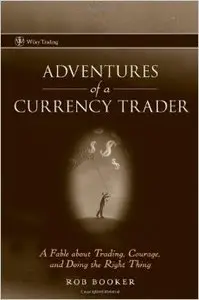 Rob Booker, "Adventures of a Currency Trader: A Fable about Trading, Courage, and Doing the Right Thing "
2007 | ISBN-10: 0470049480 | 240 pages | PDF | 7 MB
Let author Rob Booker introduce you to Harry Banes. Harry represents every trader. He doesn't start trading with a huge amount of money, and his ambition is larger than his ability. His financial situation and life as a new trader may be difficult, but his determination allows him to prevail in Adventures of a Currency Trader. ?
Funny, entertaining, and, above all, educational, Adventures of a Currency Trader demonstrates exactly what it takes to capitalize on today's volatile and potentially profitable foreign exchange markets. Told through the eyes of a fictional character by the name of Harry Banes—an aspiring trader who works as a filing clerk in a busy New York law firm—Adventures of a Currency Trader explains in a powerful and compelling manner how you can implement a consistent trading approach in the foreign currency market and become a financially independent currency trader in the process.
There's a little bit of each of us in Harry Banes, and as the story progresses, you'll discover how to turn the lessons outlined in this book into potentially profitable trades. Harry admits early on that he's a rookie trader, which won't adequately prepare you for how bad he really is. But we'll stand by him as he picks himself up from early disappointments and begins to implement the wise counsel of a veteran trader—Harvey Winklestein—who agrees to mentor him.
From Harry's experiences, you'll learn how to recover from disastrous losses, set yourself up as a full-time trader, and talk to loved ones about what you're doing. But that's not all. Through Harry's numerous journeys, you'll also discover how to create reliable charts, perform the proper type of analysis, and make effective trades. Most importantly, you'll learn how to generate substantial profits—and keep them.
Both technical and motivational in nature, Adventures of a Currency Trader is a unique guide to trading that will provide you with a solid foundation in this field. Filled with hard-won wisdom borne of real trading experiences, Adventures of a Currency Trader is destined to become a classic of trading literature.