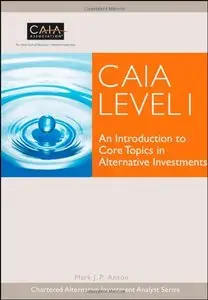 CAIA Association, Mark J. Anson PhD CFA, "CAIA Level I: An Introduction to Core Topics in Alternative Investments"
W ley | 2009 | ISBN: 0470447028 | 672 pages | PDF | 8,7 MB
The official study text for the Level I Chartered Alternative Investment Analyst (CAIA) exam
The Chartered Alternative Investment Analyst (CAIA) designation is the financial industry's first and only globally recognized program that prepares professionals to deal with the ever-growing field of alternative investments. The CAIA Level I: An Introduction to Core Topics in Alternative Investments contains all material on alternative investments that a potential Level I candidate would need to know as they prepare for the exam.
The information found here will help you build a solid foundation in both traditional and alternative investment markets-for example, the range of statistics that are used to define investment performance as well as the many types of hedge fund strategies. It will also inform CAIA candidates on how to identify and describe aspects of financial markets, develop reasoning skills, and in some cases, make computations necessary to solve business problems.
Contains "need to know" material for Level I candidates and for alternative investment specialists
Addresses all of the unique attributes associated with the alternative investments space
Organized with a study guide outline and learning objectives with key terms, available for free at
www.caia.org/program/studyguides
Focuses on alternative investments and quantitative techniques used by investment professionals
This book is a must-have resource for anyone contemplating taking the CAIA Level I exam.
Download