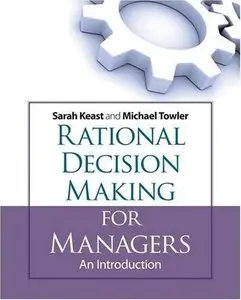 Michael Towler and Sarah Keast, "Rational Decision Making for Managers: An Introduction"
Wil y | 2009 | ISBN: 0470519657 | 352 pages | PDF | 37,3 MB
Rational decision making tools are quantitative and analytical tools that managers use to make complex business decisions. Rational Decision Making for Managers provides students with a basic understanding of these techniques and helps them to recognize when they are appropriate. Sarah Keast and Mike Towler also show the characteristics of the decisions that can be informed by the use of each technique, thereby guiding the reader in their choice.
Rational Decision Making for Managers features:
separate chapters on robustness analysis and game theory
a strong contextual discussion and clear structure
a concise mathematical appendix
The book is essential reading for students studying business decision making, quantitative methods and business research methods. There is an accompanying website
www.wileyeurope.com/college/towler
including PowerPoint slides, teaching notes, and alternative routes through the text, additional exercises and further reading.
Download